LTCC First College In the Country to Offer Bi-State Promise Program
October 22, 2018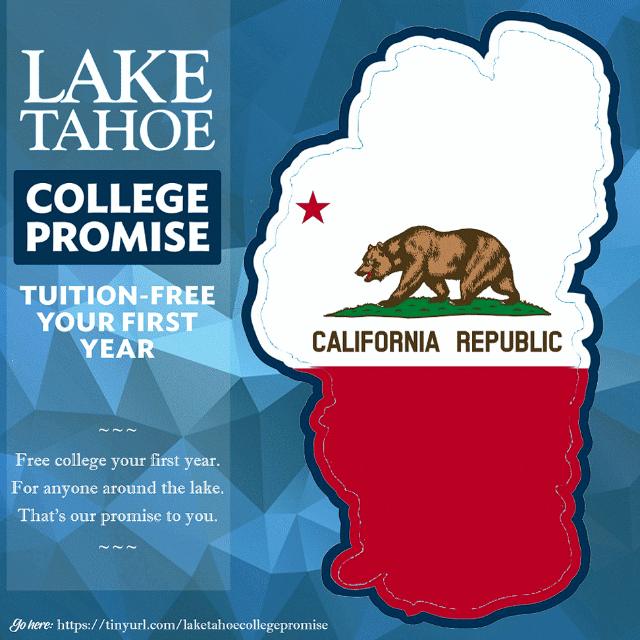 Thanks to a few key donations, Lake Tahoe Community College's free year of tuition program, called the Lake Tahoe College Promise, is now available around Lake Tahoe on both sides of the California-Nevada border. With this expansion, LTCC becomes the only college in the country to offer a bi-state College Promise program providing free tuition regardless of which side of the border a prospective student lives on. The expanded program also reflects LTCC's conviction that the Tahoe Basin is a complete, single community despite where the border lies. Being able to promise Nevadans in the Tahoe Basin a free year of college right along with California residents brings LTCC closer to realizing its goal of serving the needs of the entire Tahoe region.
"With this expansion, LTCC is breaking down those barriers to access that so many Tahoe residents face," said LTCC Superintendent/President Jeff DeFranco. "The goal from the start was to have a Promise program that aligns with our mission of serving the Lake Tahoe Basin in its entirety. We are one Basin, one lake, and one community, and we're proud to offer a free year of college to anyone who lives along Lake Tahoe, despite which state they live in or when they might have graduated from high school."
Since California Governor Jerry Brown signed off on Assembly Bill 19 in Fall 2017, paving the way for a tuition-free year of community college for all California residents starting Fall 2018, LTCC has been thinking and acting in terms of expanding the program. Specifically, LTCC envisioned from the get-go that the promise of a tuition-free year of college ought to be Basin-wide, and that it should be available to Nevada-side adults in addition to recent high school graduates. Unlike California's program, Nevada's Promise is currently only available to the high school graduating class of 2018, and it requires applicants to be under the age of 20. That leaves Nevada adults who were never able to attend college before without a Promise program they can tap into.
"It's a good program, but it can't help all of the older adults on the Nevada side," said DeFranco. "We have thousands of adults working in service industry jobs in Tahoe, often two or three jobs at a time, who could hugely benefit from a Promise program and college education. For our community, it was crucial that LTCC's Promise program provide access to any Nevada resident in the Basin, even if high school was a long time ago for them."
With a bi-state program in mind, a fundraising effort by LTCC's Foundation began this past summer to secure enough funds to offer the Lake Tahoe College Promise around the entire lake starting in Fall 2019. But thanks to an anonymous donation of $200,000 from a Nevada Basin resident, along with an $18,400 donation from the Edgewood Tahoe golf course through a partnership with the American Century Celebrity Golf Championship tournament, LTCC was able to offer the Promise to Nevada residents this fall, just a few days before the start of school.
"In fact, we just handed out tuition reimbursement checks to a handful of Nevada-side students who qualified for the Promise this fall, which was a big and entirely pleasant surprise to them," said DeFranco. "Being the first college to think in terms of ignoring borders and helping our community as it actually exists is great. But providing access to more people so they can tap into the lifelong benefits of a college education is deeply motivating, and mirrors what drives most of us to work at a community college. We want as many locals as possible to experience what a college education can do for them and their families. It's good for us, and outstanding for our community."
LTCC's Lake Tahoe College Promise is for any and all first-time college students, including those who earned credits while still in high school. The program offers waivers, providing a full year of full-time coursework tuition-free. To be eligible, students must be enrolled in and complete 12 or more units each quarter for up to three academic quarters. The program is open to all California residents, all California Dreamer students who are eligible through California Assembly Bill 540, or any Nevada resident of the Tahoe Basin. For more about eligibility, visit LTCC's Frequently Asked Questions about the Lake Tahoe College Promise.
LTCC recognizes that there are many costs associated with attending college that can prove to be a stumbling block to an otherwise motivated, bright student dealing with limited means. Housing, textbooks, childcare, and transportation are just a few of the monthly budget items that can trip a student up financially and force them to leave school. To enhance the Promise program and make college more accessible to more people, LTCC offers an array of benefits, many of them free or very low cost.
For starters, all LTCC students can use their free Student ID cards to get unlimited, no-charge bus rides to school, work, and all around Lake Tahoe's South Shore. LTCC also has many programs to make low-cost and free textbooks readily available. There are now more than 80 courses in LTCC's schedule that use Open Educational Resources (OER), providing no-cost textbooks and class materials to registered students. There is also a robust lending library available for students to check out books for the entire term. And, there are a number of programs students can apply for that provide free childcare, free school supplies, free gas cards, on-campus paid work opportunities, and much more.
But even with all of this available to students in addition to a year's worth of free tuition, LTCC's president recognizes, along with many other college presidents nationwide, that more needs to be done.
"The College Promise is a great start," DeFranco said. "But one year is not enough time for students to earn a degree in. Even California's best and brightest students struggle to get an Associate degree in two years. Pushing towards a two-year, tuition-free Promise is the right thing to do for many reasons. LTCC also must further its own promise to our students by continuing to build clear pathways that allow them to complete on time, and to keep providing the entire array of support services that we know can help boost completion rates and assist more people in reaching their academic goals."
Along with LTCC's Promise, the nation's College Promise movement is also expanding as more programs are proposed and implemented in communities across the country. According to the College Promise Campaign, the national non-partisan initiative that supports the growth of local Promise programs, more than 200 Promise programs in 43 states are now underway. Twenty-three states have enacted College Promise legislation or executive actions for their residents, recognizing that an education beyond high school offers a real return on investment for their communities.
To make a donation to help keep the Lake Tahoe College Promise program in place and expand it even further, please contact LTCC Foundation Executive Director Nancy Harrison at (530) 541-4660 x. 245, or email Harrison@ltcc.edu, or visit www.ltcc.edu/giving to donate securely online. To find out more about the Lake Tahoe College Promise program, visit www.ltcc.edu/promise.