State of the College: LTCC is Feeling the Gratitude
September 25, 2023
Below are some of the major announcements and highlights from LTCC Superintendent/President Jeff DeFranco's State of the College Address delivered on Thursday, September 14, 2023. Watch the entire State of the College address on YouTube. Supporting documents and additional information can be found on LTCC's State of the College webpage.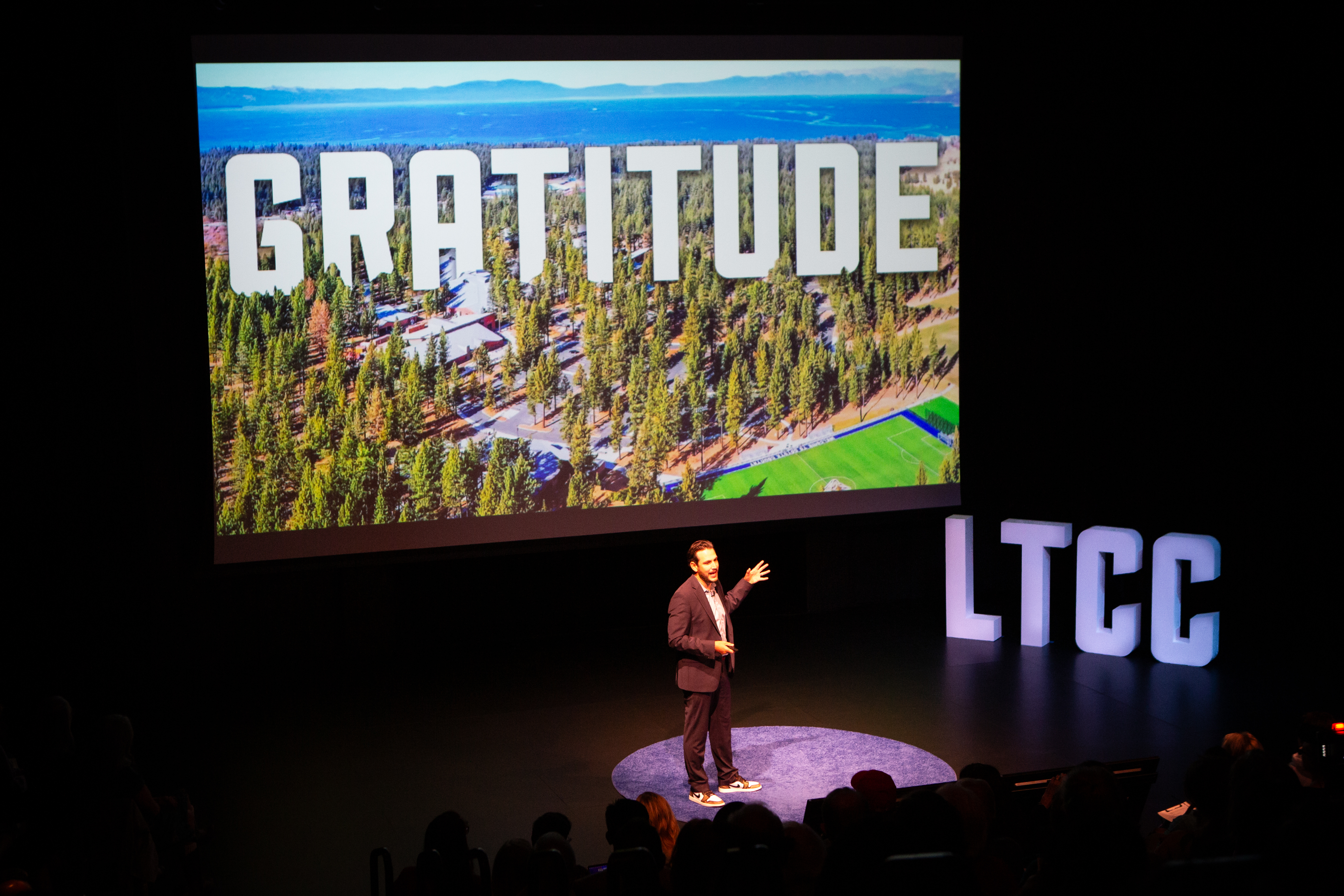 The past several years have been a bit of a wild ride for the staff, faculty, and students of Lake Tahoe Community College. Choking smoke, threats of fire, a global pandemic, and finally a winter unlike any other in recent history have all tested us mightily. But as I worked on this year's annual State of the College Address to returning students and employees, what I was struck by were strong feelings of gratitude. It naturally became the main focus of my speech.
Certainly, there is gratitude for LTCC's students, who continually reach new heights and remind us of what our day-to-day efforts at the college are all about. There's a great deal of gratitude for our Board of Trustees members, some of the longest serving in California's entire community college system. Their consistent and collegial leadership has brought great energy and renewed hope for this college and community. Our extraordinary team of staff and faculty was already world-class, and it is now expanding to provide even more service, support, and quality education to all who come to LTCC seeking opportunity and options.
I am personally grateful for the contributions of several people we lost in this past year whose efforts continue to be felt on campus every day: longtime Board of Trustees member Dr. Fritz Wenck and Wilderness Education Director Dr. Clinton Culp, who both passed in January. Their work is forever part of the fabric of this college, and still has real impact today.
For myself, I am grateful for my father, who passed last December. His storytelling and his relationship building are traits I try to bring to my position at the college every day. I'm grateful for his support, and his pride in me and in all things LTCC. He always freely expressed that pride, and I took his example by sharing my own pride and gratitude for LTCC, my team members, and our students in this year's address.
We have many valid reasons for feeling gratitude. LTCC's enrollment is back up to pre-pandemic levels, with a 23% increase in students from Fall 2022 to the present. We broke ground this summer on our on-campus student housing project that will provide affordable living to full-time, income-qualifying students starting in Fall 2025. Significant grant dollars are coming in, allowing LTCC to expand services and support available to students. Our seven-year college Accreditation cycle is well underway, and we are feeling confident about the likelihood of LTCC receiving full reaffirmation of its accreditation in 2025.
LTCC will begin celebrating its 50th anniversary starting in March 2024, marking 50 years since the college was first voted into existence, through September 2025, marking when the first students were welcomed in. Our community will be invited to join several events around this celebration, so please keep an eye out for more details to come.
LTCC has experienced growth in so many ways. Included in that is our growing workforce: the college has 30 more employees now than it did a decade ago, more of them are now employed full time, and all employees are experiencing historically high salaries on average. Our state-apportioned budget is 116% larger, going from $13 million 10 years ago to $28 million now. The total budget, including grants and other sources of funds from outside of the state's, has swelled by 312% in that time. Back in 2019, LTCC's annual budget included just under $1 million in grant funds. In contrast, the 2022/23 annual budget included more than $5 million in grant funds, allowing LTCC to expand and add programs and services that boost student success.
Last but certainly not least, LTCC has completed or is near completion with many parts of the Remodel for Efficiency project funded by Measure F and the state of California. New part- and full-time faculty offices and collaborative workspaces on the second floor of the Main Building are now open. A new technology classroom, the largest on campus, is also open for business on the ground floor, stuffed with the most modern educational technology for faculty and students. Updated art labs are open, while science labs and student services workspaces are being wrapped up and anticipated to open this year. The Main Building front entrance and courtyard are being finalized and will open this fall. We are grateful to voters and citizens of the District who supported Measure F to make these improvements possible.
Below are more highlights and details from this year's State of the College Address:
Funds for Success
LTCC was awarded multiple grants in the past 12 months worth just over $7 million, for use over multiple years. The Developing Hispanic Serving Institution (HSI) Grant brings in $3 million over five years to expand student success throughout LTCC's academic programs outside of STEM, which benefited from a different HSI Grant a few years back. Now all academic departments and the students they serve will benefit from HSI funding, with a focus on supporting income-qualifying and Latina/o/x students.
The Juvenile Justice Expansion Grant brings in $1.5 million over five years, allowing LTCC to educate 70 youth-detained students per term with the goal of their attending LTCC or another community college upon release. Students from the South Shore's Juvenile Treatment Center will benefit from this grant.
Diversity, Equity & Inclusivity (DEI) Efforts
LTCC's DEI Taskforce is wrapping up its first three years of work. In that time, it has released a progress report and an update to it. The college collegially worked on and adopted a Land Acknowledgement statement now used at events and meetings to formally acknowledge the ties college lands have to its original inhabitants, the Washoe people. Further, LTCC is working with the Washoe Tribe to offer the Lake Tahoe College Promise of up to three years tuition free to any tribal members and descendants who attend LTCC, and to preserve and properly designate several culturally significant sites on campus.
Going Green(er)
LTCC is now a proud supporter of the Clean Up The Lake non-profit group, and has adopted a mile of beach at Lakeview Commons. Five areas of focus have been established for encouraging going even greener on campus: plastics reduction, sustainable purchasing, waste reduction, transportation, and water use reduction. Many of these are already in progress: significantly less plastic is purchased and used on campus these days, the Purchasing Department has already adopted a number of sustainable buying standards, and LTCC's Mobility Hub has become the center of clean and green travel on the South Shore, acting as a center for Tahoe Transportation District electric bus charging and a major connector for multiple bike and pedestrian trails in South Lake Tahoe.
There is a lot going on at your local community college, and I invite you to learn more about it. You can watch my address online at www.ltcc.edu/soca, where you'll also find several publications with data that was used to inform the address. Please reach out to me at president@ltcc.edu with questions, and I hope to see you on our rapidly evolving campus soon!
---
These are just some of the highlights I shared in this year's State of the College address. To hear about all the great news and achievements LTCC experienced in 20212/23, you can see more and view the entire speech on the State of the College webpage.