Graduation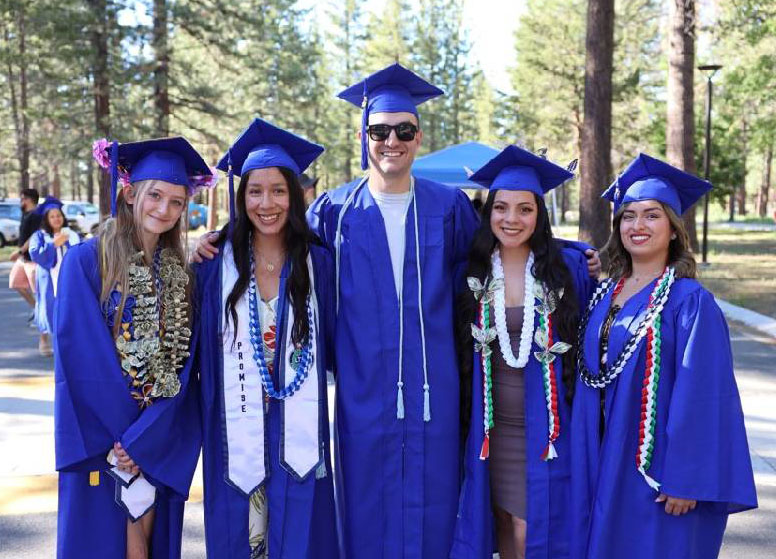 Download Your Free Graduation Photos!
---
Grads: we hope you and your family and friends can join us in celebrating your accomplishments! No guest tickets are required, and all are welcome. The 2022 Graduation Ceremony will be held outdoors on LTCC's synthetic turf soccer field, located immediately next to the standalone Physical Education Center building on campus. Parking at LTCC is free! Park either in the main lot immediately adjacent to the soccer field, or park in the Community Playfields lot on the other side of the field, accessible via Al Tahoe Boulevard.
This year's keynote speaker is Martoinne Williams, a motivational speaker, coach, and "hope dealer." Martoinne's "A Tribe Called Us" speech at TEDx South Lake Tahoe in 2021 was a big hit, and we hope you find his inspirational story and optimistic presence to be a meaningful addition to your graduation day!
Answers to commonly asked questions about graduation are below. If you need further information, please contact Allan Medrano at amedrano@ltcc.edu or at (530) 541-4660 x206.
~ Frequently Asked Questions ~
Submit photos and song requests for the day of graduation by following the links in your Grad Pack emails!
Check your student email for updates pertaining to graduation and for information on how to record your name (for pronunciation purposes). The day of, if your name is commonly mispronounced, please inform the announcer of the correct pronunciation when you hand them your name card.