TEDx South Lake Tahoe Returns to LTCC with Informed Talks That Inspire a New Perspective
September 25, 2023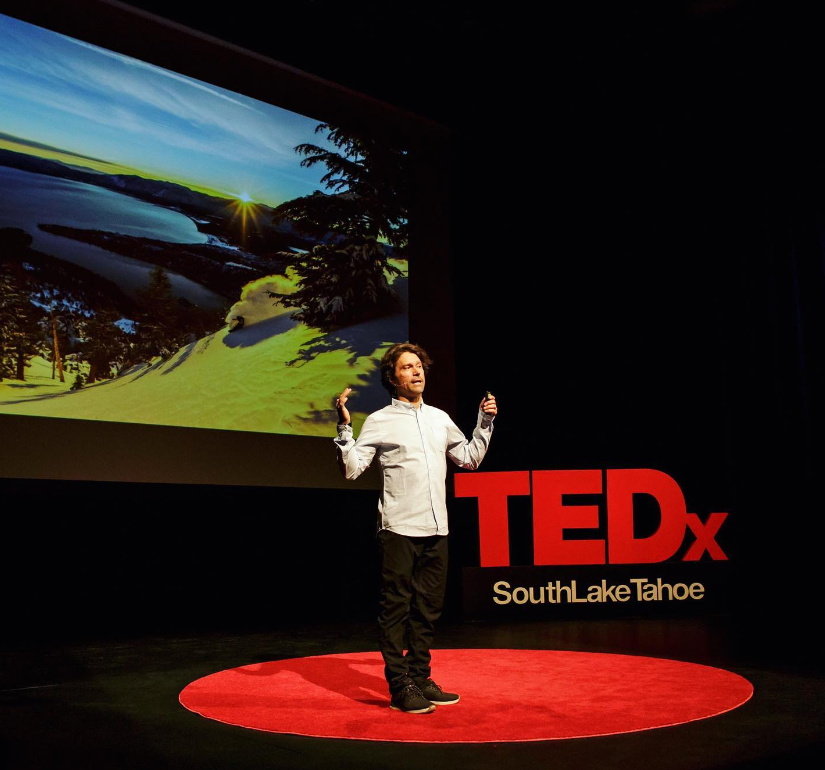 The popular speaker series TEDx South Lake Tahoe returns to Lake Tahoe Community College (LTCC) for its 6th year of bringing together local, national, and international guest speakers who are committed to sharing their insightful and inspiring ideas with audiences in engaging and entertaining ways.
TEDx comes to LTCC's Duke Theatre on Saturday, October 14 from 5pm to 9pm. South Lake Tahoe residents might recognize local speakers Devin Middlebrook, Larry Sidney, and Bridey Heidel. They'll be joined by several other speakers from outside the Tahoe Basin who are all devoting their energies to sharing ideas and ingenuity that can lead to real change. Tickets for TEDx South Lake Tahoe are $85 each, and are available for sale online at tedxsouthlaketahoe.com. The evening will include light refreshments and live music.
This year's lineup of TEDx speakers and topics includes:
Meena Srinivasan: "Unlocking the Secret Powers of Tenderness." Srinivasan is a seasoned educational leader, speaker, author, and edu-preneur. With over two decades of dedicated service, she is an educator-activist at heart who champions the fusion of Mindfulness and Social and Emotional Learning (SEL). In 2022, she was featured as one of Mindful Magazine's "Ten Powerful Women of the Mindfulness Movement," while also gaining recognition in Educational Leadership Magazine for her insights into Mindful Leadership and Wellbeing.
Jacqueline Wales: "Unleashing the Power of Fear – The Hidden Secret to Success & Happiness in Your Career and Life." Wales is the author of The Fearless Factor, The Fearless Factor @ Work, When The Crow Sings, a novel, and the creator of Transformational Strategies for Success, a comprehensive program designed to help executives enhance self-awareness, emotional intelligence and communication skills. She is a certified consultant for Human Synergistics behavioral assessments, the Global Leadership Wellness Survey, and The Immunity to Change program.
Larry Sidney: "The Power of Pursuing Audacious Dreams." A dual-sport National Team athlete for Israel, Sidney competed in the sport of Skeleton from 2014-2018 and Curling from 2018 to the present. He is heavily involved with the local Lake Tahoe Epic Curling club, which has a dedicated curling ice facility on Market Street in Stateline. When not competing on the ice, Sidney is a Holistic Financial Adviser, helping businesses and families create their optimal retirement plan. Sidney earned his MBA from UC Berkeley and his undergraduate degree from the University of Connecticut.
Joshua "Atlas" Aultman: "Start With WHO – How Elite Leaders Win." Aultman helps leaders focus on who they are, who their teams are, and who their mission serves by providing master-courses, books, and speeches designed to produce faster successes, retain talent, and attract high-value teammates. After almost 3 decades of serving in the United States military, Atlas now shares lessons – from his notes and time in Special Operations, Conflict zones, and White House communities – using stories. His books have been featured on FOX, NBC, ABC and other major news outlets.
Dr. Santor Nishizaki: "The 3 P's of Post-Pandemic Leadership." Dr. Nishizaki is the founder and CEO of Mulholland Consulting Group, and his work on leadership and Generation Z in the workplace has been featured in The Wall Street Journal, Forbes, Entrepreneur, Psychology Today, BBC, CBC, Fast Company, and more. In addition to speaking and training, Santor is a Ph.D. professor of Global Leadership and Change at Pepperdine University and a former acting city manager and Walt Disney Imagineer.
Devin Middlebrook: "Rethinking Our Outdoors." Middlebrook is a former mayor and city council member of South Lake Tahoe, and was born and raised on the South Shore. As Mayor, Middlebrook advocated for the environment, economic diversity, climate, housing, recreation, equality, and transportation. He is currently the government affairs manager for the Tahoe Regional Planning Agency, where he leads initiatives to create a more resilient Lake Tahoe.
Bridey Heidel: "ROB The Trauma: Steal Back Your Life." Thelen-Heidel is an award-winning English teacher, writer, and youth advocate. She graduated from South Tahoe High School in 1989 and has taught for LTUSD since 1999. Her memoir, Bright Eyes, will be published by SheWrites Press in August 2024, and her work with LGBT+ youth has been celebrated in Read This, Save Lives and California Educator. She recently performed in Listen to Your Mother NYC and is a frequent podcast guest, speaking about the resilience, optimism, and bravery she developed surviving her abusive upbringing that she now uses to live her best life.
Gabriel Najera: "Do You Need a Hand Or Two?" Najera is a world-class motivational speaker who was born without arms, and now inspires others to achieve their dreams despite obstacles. He is a professional systems engineer who is fully bilingual in English and Spanish, a successful entrepreneur having created six successful companies in just a little over 25 years, and the self-published author of two books. Najera is an inspiring, motivating and humorous professional speaker with an instinctive ability to capture and lift the spirits of people, empowering them for a renewed reach toward any goals, dreams and purpose they once thought were impossible to accomplish.
TEDx South Lake Tahoe is a not-for-profit local and independent organization with a focus on spreading ideas that are worth sharing. Although independent, TEDx South Lake Tahoe's goal is to give the community a platform to share and inspire ideas to help make Lake Tahoe and the world a better place. Visit tedxsouthlaketahoe.com to learn more.
Lake Tahoe Community College is located at One College Drive off of Al Tahoe Boulevard in the heart of South Lake Tahoe. The Duke Theatre is located inside the Fine Arts Building on the north side of campus. Parking on campus is free and ample. For more information about the college, call (530) 541-4660.