Past Projects & Campaigns

---
LTCC's 40th Anniversary
Lake Tahoe Community College celebrated 40 years of Excellence in Education with the founders of the District, former colleagues and our college community. Speakers included Roberta Mason, Hazel Hoak, Dr. James Duke, Dr. Fritz Wenck, Dr. Dianne Van Hook, Dr. Guy Lease, Wait Griswald, Pat Leonard-Heffner, Danny Masellones, Kerry David, Michelle Risdon, Bob Novasel, and student trustee Alicia Agnew.
The Lake Tahoe Community College District was voted into existence on March 5, 1974. Since then, the College has developed from a tiny institution housed in a motel on Highway 50 to a world-class education destination. We started with 1,400 students. Today LTCC serves 5,500 students each year. We left the old motel behind and now welcome students to enjoy our beautiful 164-acre wooded campus with a full-service library, a theatre and performing arts building, a fitness education center, a commercial-grade culinary arts kitchen, the Haldan Art Gallery, the child development center, and much more. We started with 16 full-time faculty members. Now we have 40 full-time faculty members who are leaders in their fields of study, many of whom hold doctorate degrees from prestigious universities. Our first graduating class consisted of 11 students. At this year's graduation ceremony in June, approximately 165 students will earn their associate degrees. Many of those grads will transfer to 4-year universities—a testament to LTCC being the number one transfer school among California community colleges of our size.
---
Fill the Frame Campaign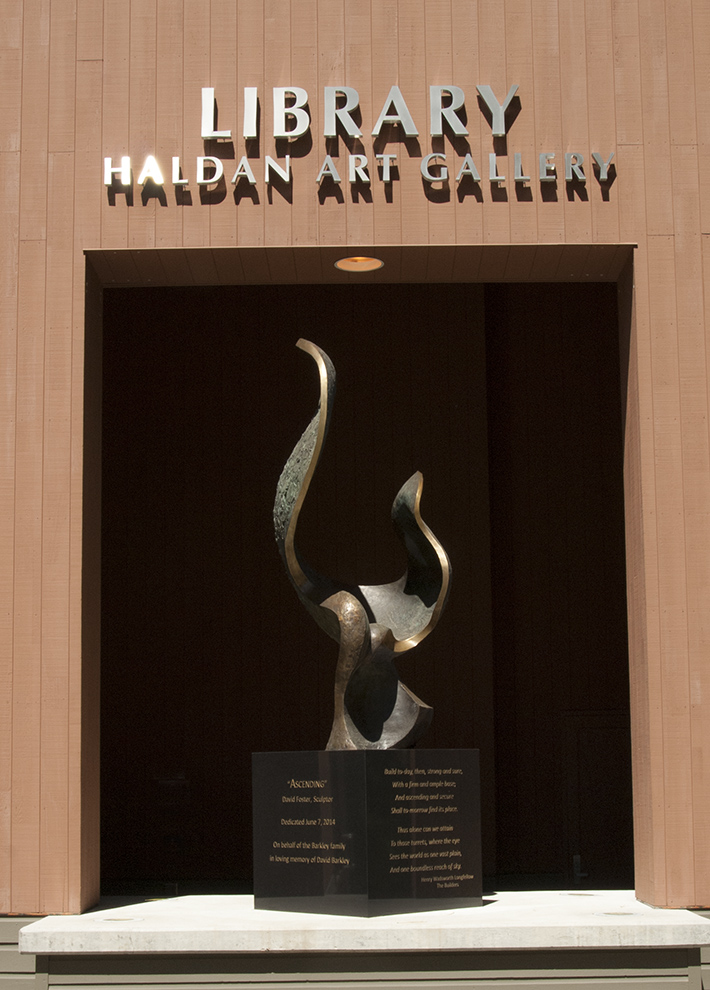 Lake Tahoe Community College is now an even more beautiful place, thanks to the addition of the
soaring Ascending bronze sculpture that now stands proudly just outside the LTCC library building.
This work of art would not have been possible without generous contributions to the Fill the Frame
Campaign.
The Fill the Frame Campaign was inspired by Kitt Barkley, who wanted to build a memorial in honor of
her late husband, David, who embraced lifelong learning and loved taking classes at Lake Tahoe
Community College. David was a man for all seasons who enjoyed biking, running, skiing, golf, flying,
reading, geology, nature, gardening, watching PBS, politics, travel, and playing with his dogs. He
tragically died on May 15, 2006 while riding his bike along a rural highway in Bigfork, Montana, where
he was struck by a car. David Foster's bronze sculpture, "Ascending," is a fitting tribute to Mr. Barkley,
who always looked forward to the future with passion and zeal.