Promise
The Lake Tahoe College Promise
We are One Basin, One Lake, and One Community
Full of Promise!
The PROMISE
Through the Lake Tahoe College Promise, first-time, full-time students will earn a degree and contribute more significantly to the Tahoe Basin community. Higher education levels translate to higher earning potential, greater levels of community and civic engagement, and healthier lifestyles, all of which contribute to a stronger and safer Tahoe community.
---
The PROBLEM
Many LTCC students struggle to balance the demands of work, family, and school, and these constraints prevent them from earning a degree within 2-3 years. Amidst worry and exhaustion, they take fewer classes -- or drop out altogether. This Promise ensures that LTCC students do not have to choose between putting food on the table and paying tuition and the costs of books, or going to work and studying for an exam.
---
The PLAN
The Lake Tahoe College Promise establishes a clear pathway from local high schools to a college degree by eliminating the cost of tuition and providing academic support to first-time, full-time Tahoe students from both California and Nevada.
Promise students complete their Associate degree, or transfer to another college or university, within two or three years. In this way, the Lake Tahoe College Promise eliminates the financial barriers of going to college AND improves graduation rates!
Through our Promise, LTCC provides full tuition for students who are not eligible for tuition waivers through the California and Nevada College Promise programs and stipends for textbooks and other academic support.
For more information on the benefits the Promise Program gives to students visit
---
We are one Basin, one lake, and one community.
Your gift to the Promise ensures a thriving Tahoe community
Your support is critical for students from underrepresented populations to stay in school and earn their degree.
A gift to the Promise program will ensure that access to higher education isn't subject to the shifts in state budgets, the winds of political change or an individual student's lack of financial resources.
Support Lake Tahoe Community College Programs & Students!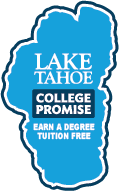 Support Lake Tahoe Community College Programs and Students!
Your gift will help create a better future for our students and our community.
---
Recent Successes
The Lake Tahoe College Promise is the first promise program to provide tuition-free education and academic, financial and other support to students from both California and Nevada. The Foundation provided $50,000 in 2019/2020 and will provide $80,000 to support LTCP students in the 2021-2022 academic year, including tuition for Nevada Lake Tahoe students, and $100 per quarter stipend for books and educational supplies for each student.
97 of the 100 students who started in fall 2020 continued to winter quarter
70 students are continuing for their second year
7 students in their third year will receive support to their graduation in spring 2021
Nancy Harrison, CFRE

Executive Director of the Foundation and College Advancement (530) 541-4660 x 245

email
The Lake Tahoe Community College Foundation is a tax-exempt 501(c)3 nonprofit organization – TAX ID# 68-0383810.