Emergency Medical Technician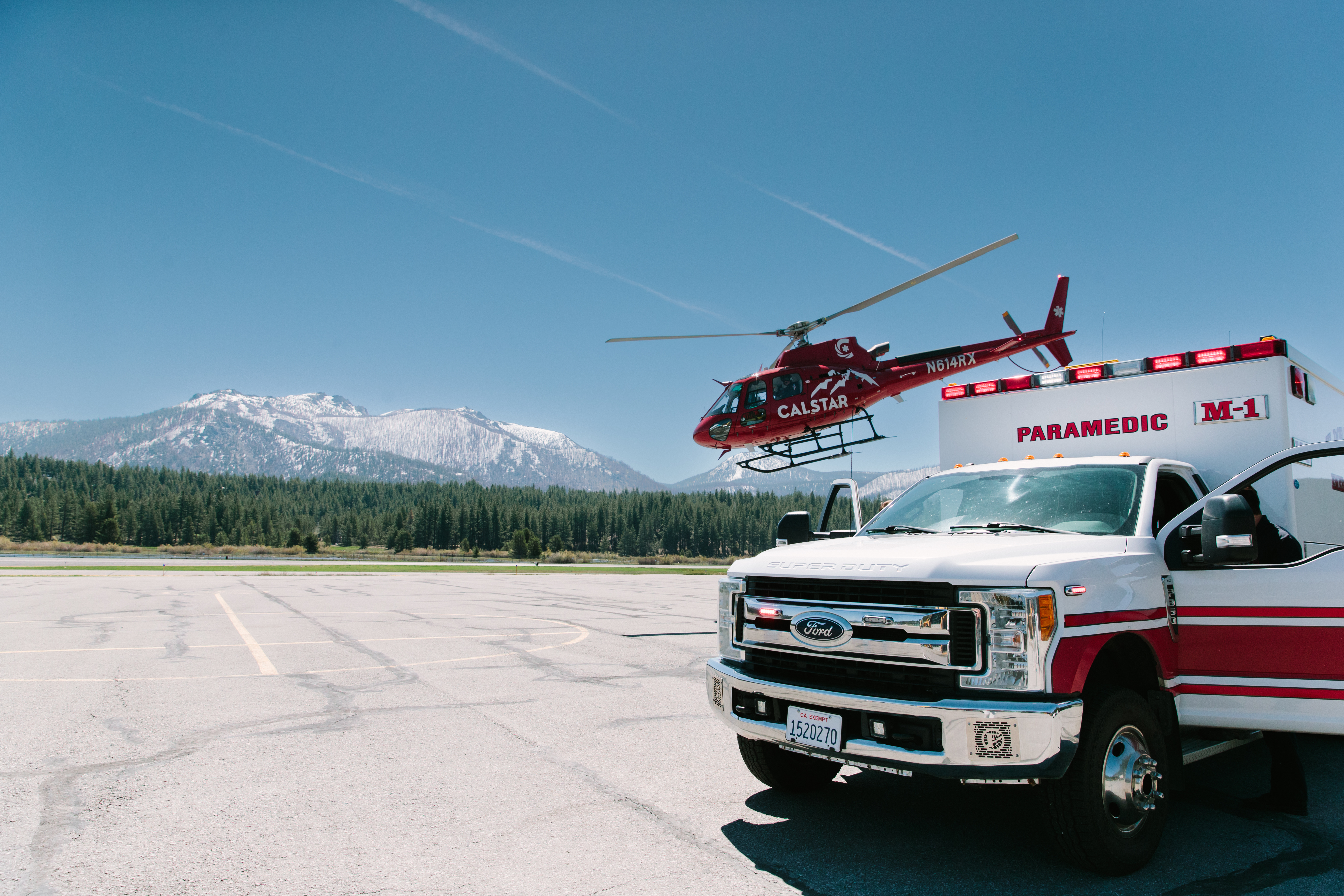 *Mandatory EMT Orientation Meeting*
In order to qualify to attend LTCC's EMT course, prospective students must attend the EMT Orientation Meeting on Thursday, Nov. 9 from 12pm-2pm in G5 near the T Wing in order to qualify to take the EMT course in either Winter or Spring 2024. Open registration for both Winter and Spring Quarter classes begins on Wed. November 22, 2023. RSVPs are not required to attend this orientation. For more information, please contact Jamie Rhone at rhone@ltcc.edu.
---
Joining the 2023/24 EMT Course
Provide life-saving service and support to your community! Whether you're interested in Fire Service or paramedic work, the Emergency Medical Technician (EMT) course at Lake Tahoe Community College can prepare you for a sustainable and meaningful career.
In addition to attending the Nov. 9 orientation, EMT students must also have the following vaccinations completed to be enrolled: 2 doses of MMR (Measles, Mumps, Rubella); 2 doses of Varicella vaccination (chicken pox); Hepatitis B vaccination or positive Hepatitis B surface; Tdap (Tetanus, Diphtheria, and Pertussis) within the past 10 years; proof and results of a TB test taken within the last year; Annual Flu Vaccine or signed declination (September - March only); and proof of COVID Vaccination Including Booster. These vaccinations can be received in many places, including your primary care physician and through public health offices. The vaccinations can take a long time to complete or gather proof of, and it would be wise to start on them now if you intend to become part of the medical field.
It would also be wise to start applying at LTCC and getting through the process of becoming a new student, and receiving your student ID. More information about enrollment can be found on LTCC's Enrollment Services website or by contacting enrollmentservices@ltcc.edu. They are available by phone at (530) 541-4660 x211.
A Basic Life Support (BLS) card is a prerequisite. College classes that exceed the BLS prerequisite requirement and include a BLS card are HEA-106: Emergency Medical Responder (BLS card from American Red Cross), WLD-107A: Wilderness First Aid and WLD-107B. You may also consider taking a non-college class at Barton Hospital Education. There are other classes available from other class providers. Search the American Heart Association website for "BLS" classes.
---
More About the Course
The EMT program provides instruction to the level of Emergency Medical Technician (previously called EMT-I or EMT Basic). Students will acquire the knowledge and skills necessary to provide emergency medical care at a basic life-support level with a fire, ambulance, or other specialized service. This course is instructed in compliance with Department of Transportation (DOT) regulations and the California Code of Regulations, and is approved by the El Dorado County EMS Authority (Title 22). Successful students will be prepared for EMT certification through the National Registry. This course requires participation in clinical experiences taking place in emergency room departments of hospitals and in operational ambulance units.
Notice to Students: The clinical experience is required to successfully pass the course and become eligible to take the National Registry exam. There are additional health facility and ambulance requirements. Specifics on these requirements will be provided during the Mandatory EMT Orientation.
Attendance is mandatory at all class meetings in order to receive certification (12.75 units):
HEA 131BD Special Topic: Emergency Medical Technician (EMT) (12.25)*
*To improve student success, this course requires instructor consent to enroll. All interested students must attend an EMT Mandatory Orientation. To sign up for an orientation, please submit the R.S.V.P. EMT Mandatory Orientation form below and someone from the Career & Technical Education (CTE) Department will contact you. You will need an LTCC student ID number in order to receive instructor consent. If you are not a current student, click on "Admissions" and apply to the college to become a student and receive your ID number.
Current Emergency Medical Responder card (preferred), or current CPR card (either American Heart Association/BLS Healthcare Provider level, or American Red Cross/Professional Rescuer level). Students wishing to satisfy HEA-131BD's (EMT) prerequisite through LTCC should register for the course Emergency Medical Responder (HEA-106). The prerequisite course must be completed prior to registering for HEA-131BD. More information will be provided during the EMT Mandatory Orientation Meeting.
Students should contact their healthcare provider to verify they have had the following immunizations: two doses of Measles, Mumps, Rubella (MMR) immunization or positive antibody titers; two doses of varicella vaccination (Chickenpox) OR positive antibody titer; documentation of Hepatitis B vaccination OR positive Hepatitis B surface antibody titer; screening for documented history of Tetanus, Diphtheria, and Pertussis (Tdap) vaccination; and results of a recent TB test within the last year. Students with a history of a positive PPD (Tuberculin skin test) or Quantiferon blood test in the past should have a chest X-ray report and/or documentation of any medical treatment for TB. COVID vaccination and booster(s). During flu season (September through March) it is recommended students receive an annual flu vaccination.

More information will be provided during the EMT Mandatory Orientation Meeting.
There are a number of student scholarships that you can apply for each Spring. Scholarships make it possible to earn money for college that does not ever need to be repaid. While some of LTCC's scholarships are competitive, there is a wide variety available you can apply for for free that are awarded based on all kinds of qualities and interests.
Got questions about the EMT program?
Get in touch by submitting this contact form!
Lake Tahoe Community College
One College Drive
South Lake Tahoe, CA 96150