Student Ambassadors
Student Ambassadors at Lake Tahoe Community College provide assistance during the registration process by presenting general information, directions and referrals to all new and continuing students during pre-registration and through the first week of classes each quarter. Student Ambassadors also conduct campus tours for prospective and new students. Our amazing student team represents the college as a student and a leader for the college in outreach efforts and campus-wide special events throughout the academic year.
Please visit the Ambassador station and say hello!
---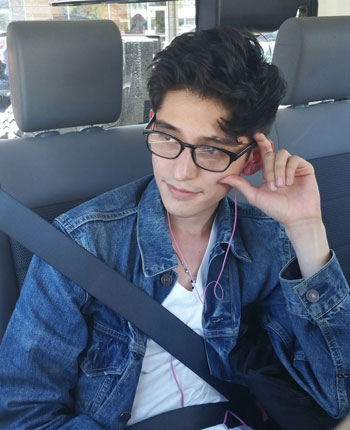 Juan
Hey, my name's Juan and I'm majoring in mathematics. I've lived in South Lake Tahoe for most of my life,

and although I plan on leaving Tahoe, I'd like to return and live here for the rest of my life. I love Tahoe too much to stay away forever.
Being an ambassador is nothing short of amazing. I always look forward to coming to the college, whether it's work related or not. Helping out at LTCC is what I live for! People come in looking for help, especially when it comes to registering for classes. Knowing that helping to answer questions, or just pointing people in the right direction can be a literal life changer, is what really puts a smile on my face. It's amazing to think how very little it takes to change someones life in a positive way. That's why I work here. That's why I love being an ambassador.
---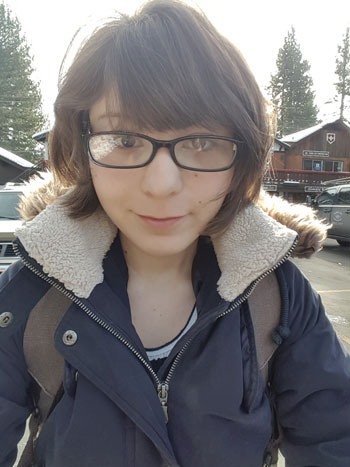 Tristy
Hello, my name is Tristy. I am attending LTCC with a goal to transfer to CSU Monterey Bay. My major is animation/illustration. It has always been my dream to bring my creations to life, and with the help of a degree, I will finally make my dream a reality.
I am very happy to be a Student Ambassador so I can make things easier for students here at LTCC. The other workers here are really friendly and approachable. Being a new student may be intimidating, but we will do our best to help you with any questions or struggles you may have.
---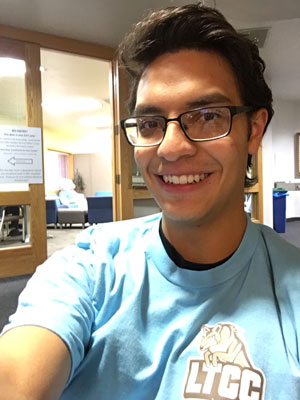 Morgan
Hello! My name is Morgan Montoya, and I was born and raised here in the city of South Lake Tahoe. I've been taking classes at LTCC since my high school years in 2012, and as of last year, I am a full time student who is looking to graduate in 2018. My long term goal is to transfer and work strenuously towards a degree in Computer Science and a degree in Music; but for LTCC, I am looking to graduate with an AA degree in Liberal Arts with a science and math emphasis.
Why did I decide to become a student ambassador? I truly believe that the college years are both a curse and a blessing. I want to help others smooth the process of becoming a college student, and I enjoy meeting new people while building friendships. Being a student ambassador gives my desire an outlet! So come on by, say hi, and enjoy being a student at LTCC!
---
Lakin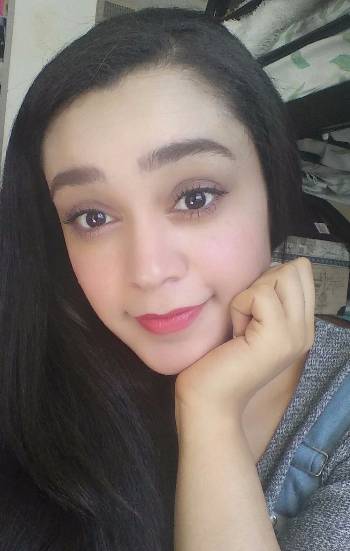 Hello, my name is Lakin. I was born and raised here in Lake Tahoe and started attending LTCC in the spring of 2015. I'm currently working towards an AA in Liberal Arts with a Mathematics and Science emphasis--my major being Computer Science and Engineering.
I'm very excited to be a Student Ambassador, to simply be here to help out others. I'm here to help with whatever questions you have or assistance you need. I remember being a new student at LTCC and feeling confused and a little lost at times, but there was always someone who helped me out and made things happen, easing much of the stress that can come with registration and enrollment. As an ambassador, I hope to show the school environment as a warm and welcoming one where one needs only to focus on their academic goals and enjoy the college community.
---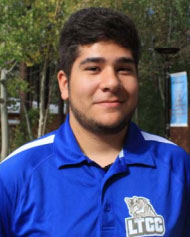 Austin
Hello, my name is Austin. I was born in South Lake Tahoe but I spent five years in Berkeley between then and now. I began at LTCC in the Fall quarter of 2014. My current goal is to transfer to CSU Monterey Bay with a major in Web Design and a minor in Japanese. I would love to study abroad in Japan for a minimum of six months.
I became an Ambassador because I really wanted to get involved with campus events and student life. I was also given the opportunity to work directly with my major by helping to design our brand new website. My goal here is to help provide a welcoming and fun environment to help recreate the feeling I had when first enrolling at this college.
Student Ambassador Responsibilities
---
Participation in all mandatory Student Ambassador trainings and meetings
Provide assistance to new and continuing students during pre-registration and the first week of classes each quarter, to include assistance in: online application, registering for courses, providing directions to offices and classrooms, providing referrals to counselors, financial aid, admissions and records, and other support staff; disseminating various forms and information
Participate in outreach activities, including those focused on high school students
Provide assistance with campus-wide events, which are coordinated by Student Services
Interested In Becoming a Student Ambassador? Please contact LTCC's Student Life Coordinator for more information and to schedule an interview!
Julie Booth
(530) 541-4660 x 477