Distinguished Alumni Award
This annual award is based upon an alum's (graduate or former student) exemplary achievement in his or her particular endeavor in life, which encompasses academic, business and professional and civic activities. LTCC alumni may be nominated for the Distinguished Alumni Award five (5) years after their attendance at Lake Tahoe Community College. Only one person shall receive this award during a given year. The deadline for next year's Distinguished Alumni is May 30, 2014. Nominations for this award can be made by any member of the LTCC faculty, staff, or general public.

2009 Distinguished Alumni
Lake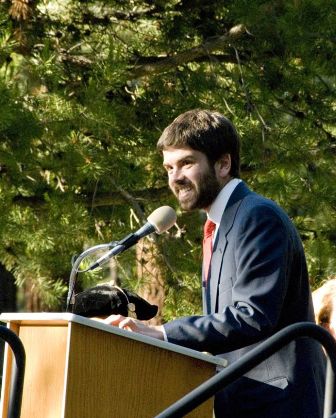 Tahoe Community College honored our first Distinguished Alumni at graduation on Friday, June 26, 2009. Jory John was awarded this recognition and addressed the 2009 graduates with an inspiring and straight from the heart speech.
Jory graduated from Lake Tahoe Community College with an AA in 1997, and then went on to University of Nevada, Reno and California State University, Chico. Jory interned at the Tahoe Daily Tribune in 1996 as a freelance writer, made the dean's list at UNR, and was published in the Mountain Democrat with his cartoon titled "Waterville" which went on to be published in dozens of newspapers across the country and online internationally. He was hired to write cartoon gags for the internationally syndicated cartoon strip "Dennis the Menace" and has won three online contests writing jokes for David Letterman. Jory has published book reviews in the San Francisco Chronicle in 2008; co-authored "Pirate's Log;" published a column in the New York Times; and edited and compiled "Thanks and Have Fun Running the Country" which reviewed in USA Today, People, and the New York Times.
Jory has tutored Native American children in a writing program at UNR, worked with children as a song leader and juggling teacher at a performing arts camp for disadvantaged children, and volunteered for many years at the Seva Foundation, a nonprofit which raises awareness of the need for eye care in third world countries. He is now the director of 826 Valencia which is a literacy center in San Francisco.