Data Shows Big Wage Gains for Degree, Certificate Earners
March 30, 2017
It pays to complete your degree: earning a degree or certificate from a California community college like Lake Tahoe Community College continues to deliver a remarkable return on investment, according to updated analysis on Salary Surfer data. The online tool from the California Community Colleges Chancellor's Office allows students to view aggregated median earnings of those who complete a certificate or degree in a specific discipline and then enter the workforce in our state.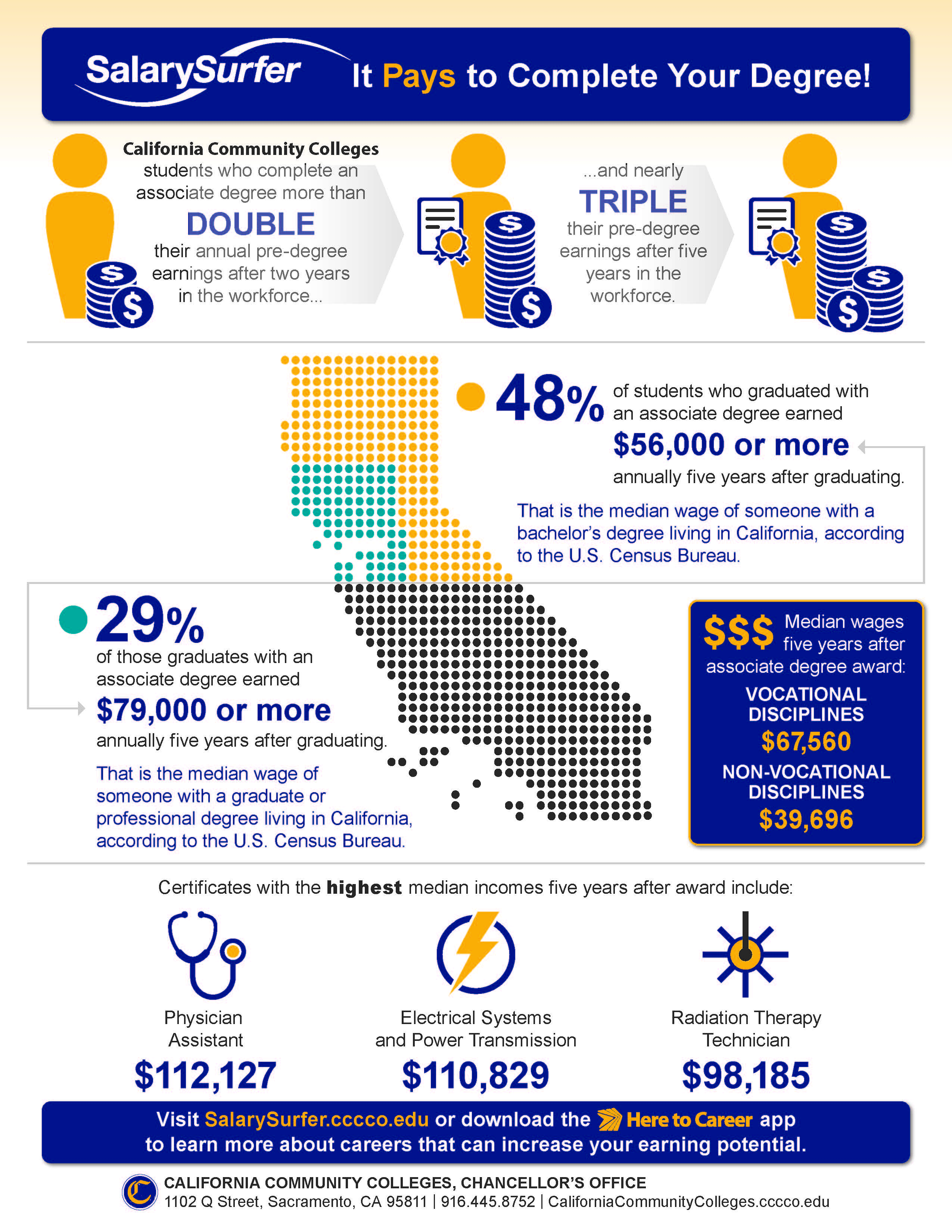 Research shows that students who complete an associate degree more than double their annual pre-degree earnings after two years in the workforce, and nearly triple their pre-degree earnings after five years in the workforce. Approximately 48 percent of students who graduated with an associate degree earned $56,000 or more annually five years after earning their degree. That is the median wage of someone with a bachelor's degree living in California, according to the U.S. Census Bureau.
Students who complete a vocational certificate nearly double their pre-degree earnings after five years in the workforce. Approximately 44 percent of students who graduated with a certificate earned $56,000 or more annually five years after graduating.
"The data makes it clear that coming to LTCC to earn an associate degree or a career/technical certificate can have a big impact on your earnings," said LTCC Superintendent/President Jeff DeFranco. "Given the affordability of LTCC, it really is a great investment that will pay off for students in real terms, for the entire length of their career."
Salary Surfer displays median annual incomes for those who complete 179 of the most widely enrolled program areas and do not transfer to a four-year institution. The data show the median earnings for community college graduates two years prior to earning the award, then two years and five years after earning either a certificate or degree. Salary Surfer also provides information on which of the system's colleges offer programs in a specific discipline.
Wage information comes from an agreement between the Chancellor's Office and the California Employment Development Department. For privacy purposes, all results are aggregated across campuses statewide and over five years. Additionally, all wages displayed have been indexed to current year dollar figures.
Students interested in enhancing their earning capabilities at LTCC can apply online year-round. Spring quarter begins Monday, April 10, but students are advised to register for classes no later than Wednesday, April 5 to ensure their seat. LTCC's cost per class unit is just $31 for California residents, and those fees can often be waived if students qualify for the Board of Governor's Fee Waiver. For information about how to afford a college education, visit LTCC's Financial Aid webpage or call the Financial Aid Office in the Main Building on campus at (530) 541-4660 x. 236.