Veterans Resource Center
October 31, 2016
Lake Tahoe Community College welcomes the entire community to the grand opening of the college's new Veterans Resource Center (VRC) on Thursday, Nov. 10 from 12:30pm to 1:30pm. The VRC, located in Room A203 on the second floor of the Main Building, will provide LTCC's student-veterans with a space of their own for quiet study, relaxation, and to tap into a whole host of support services to help them succeed academically, professionally and personally.
The VRC's grand opening will include a ribbon cutting, free refreshments, and the awarding of a car to one LTCC student-veteran. The car is being provided by Recycled Rides, a nationwide group of volunteers who repair and donate vehicles to veterans and other deserving individuals and service organizations. All of LTCC's current student-veterans are being invited to write a short essay describing what owning a car would mean to them, and a winner will be selected from these entries.
LTCC's Veterans Resource Center is one of dozens popping up at community colleges around California. More than half of all veterans who receive education benefits in California's public higher education systems attend one of 113 community colleges in the state. Many of these students are looking for information about financial aid, veteran benefits, priority registration, and general assistance with transitioning back into civilian life.
"Veterans want to transition back into civilian life with all the tools they can get," said LTCC counselor Aaron Barnett, who focuses on serving student-veterans at the college. The VRC was designed to provide just that, and is funded, in part, by the El Dorado Community Foundation.
The VRC will serve as a student lounge for down time before, between and after classes, with comfortable seating, a television, refrigerator, microwave, and coffee maker available. Snacks, water and coffee will be provided for free. There are also three computer stations with internet, which are networked to a printer that also functions as a copier and fax machine. A textbook lending library offering student-veterans the books they need for their classes is in the works. A white board and cork board have been installed for tutoring and message sharing purposes, and there's an air conditioning unit installed to keep the VRC cool during summer. The center also has a pull-up bar for a quick exercise option, and mural paintings are being created on the walls to complete the lounge look.
In addition to serving as a hangout and study room, the VRC will also act as a hub for referring student-veterans to various services and support, including mental health services. Readjustment Counseling Therapist John Keely, who operates out of the Veterans Affairs center in Reno, will be available all day to student-veterans in the VRC every other Thursday. Appointments can be made by calling (775) 323-1294. In addition, all LTCC students including veterans can receive free stress management and psychological services from Dr. Beth Marinelli-Laster and Sarah Marquez, both therapists and faculty members employed at LTCC. To make an appointment, contact Dr. Marinelli-Laster at (530) 541-4660 ext. 249, send an email to Marinelli-Laster@ltcc.edu, or stop by Room A205 in the Main Building.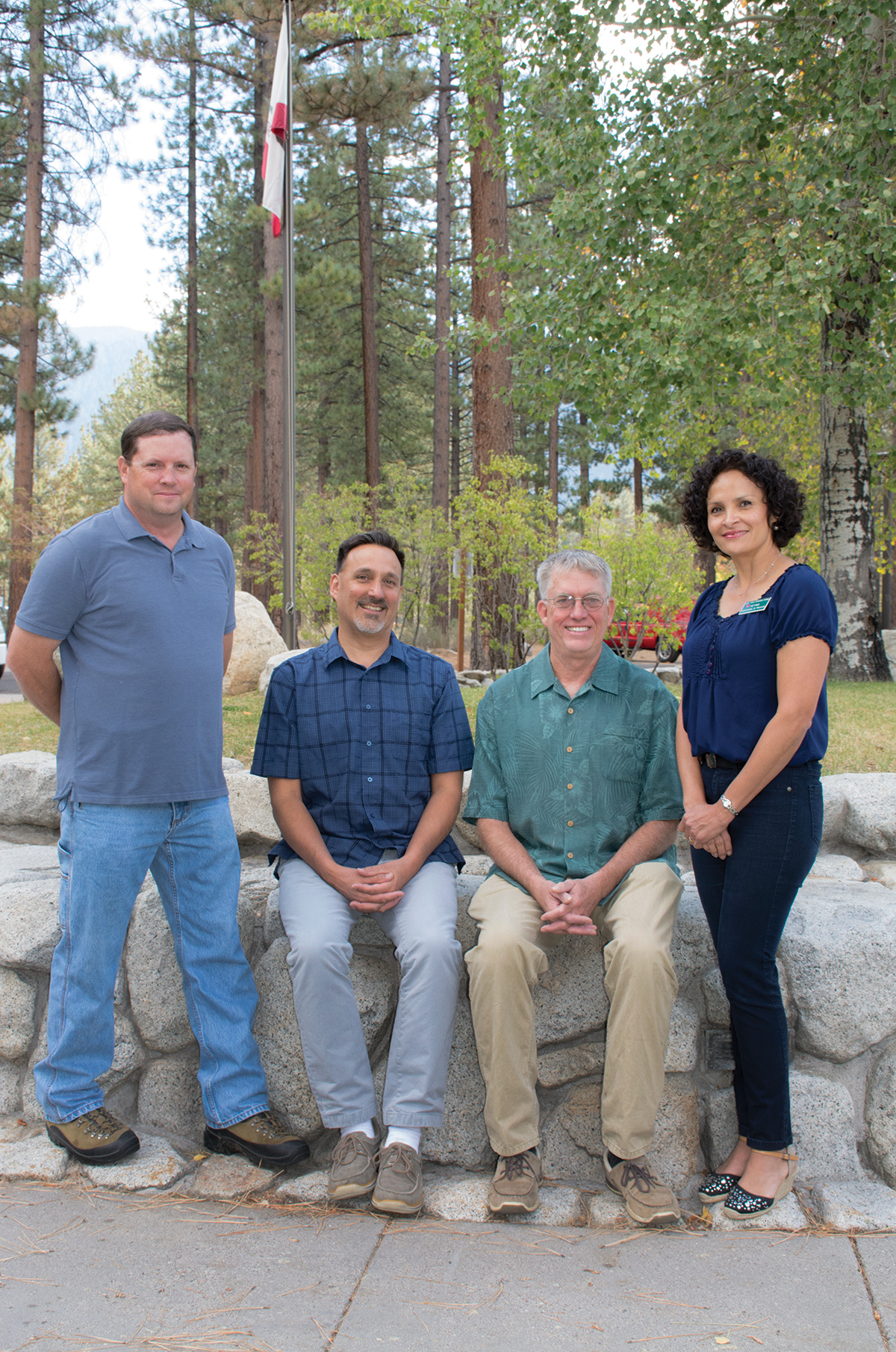 The VRC will also be home to LTCC student-worker Greg Hoover, who will be available for up to 28 hours per week providing advice and support to other student-veterans. Hoover served in the United States Marines for 20 years, and is now studying at LTCC to eventually become a high school science teacher. During peak enrollment periods, counselor Barnett will also be located in the VRC, along with Enrollment Services employee Reyna Reger, who is responsible for certifying enrollment and benefits of LTCC's student-veterans.
Accessing veteran educational benefits can be a daunting task, but most post-9/11 veterans are eligible for up to $1,700 per month in housing allowance, and potentially up to $5,800 per year in federal student aid. In addition, many veterans who reside in California are eligible for the Board of Governors (BOG) fee waiver, which makes tuition free at LTCC.
Veterans who want to discuss their financial aid options and how to launch their college career should start by contacting LTCC counselor Aaron Barnett at (530) 541-4660 ext. 211, or send an email to Barnett@ltcc.edu. He and fellow counselor Pete Dixon are the two primary contacts for veterans at LTCC. Once veterans have met with one of them and have established an educational plan, they can then meet with Financial Aid and other staffers in the One Stop Enrollment Center to apply and enroll in classes. To remain certified with Veterans Affairs, students must stick with their educational plan, or meet with counselor Barnett or Dixon to change it. Veterans can change their major as long as they meet with a counselor to discuss it.
For more information about the Veterans Resource Center and its services at LTCC, please contact Aaron Barnett at (530) 541-4660 ext. 211, or send an email to Barnett@ltcc.edu.