LTCC Nabs Award from Tahoe Chamber for Mobility Hub Project
November 20, 2020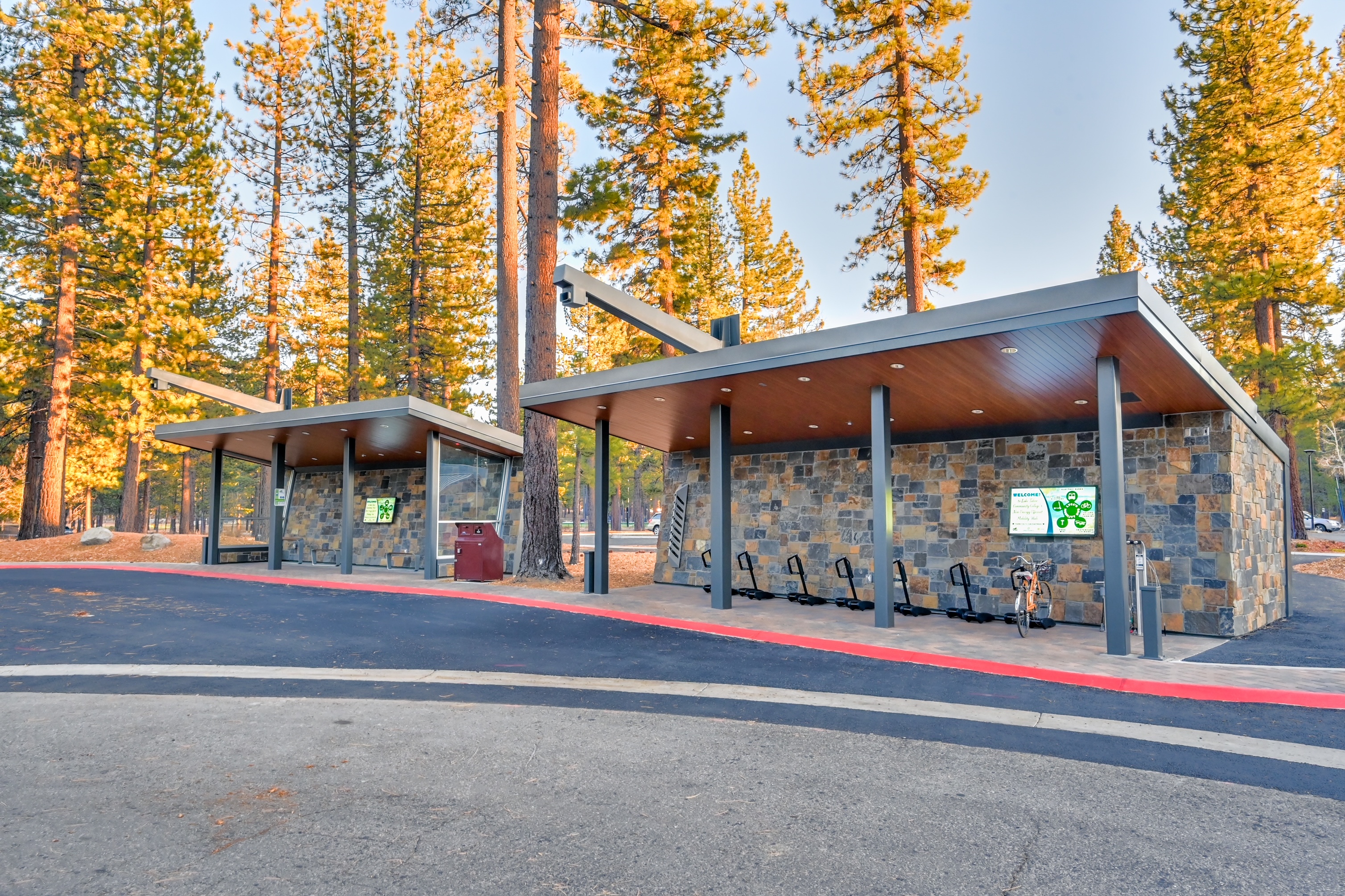 Lake Tahoe Community College and its new Mobility Hub just took home the Tallac Achievement Award in the Tahoe Chamber's 13th annual Blue Ribbon Awards. This award, chosen by popular vote and sponsored by Zephyr Cover Resort, honors an exemplary infrastructure project that revitalizes and enhances the economy and community of Tahoe's South Shore.
LTCC's Mobility Hub has been in operation for more than a year. In 2021, it will become the go-to charging station for the Tahoe Transportation District's three new 35-foot Proterra electric buses, along with four smaller 16-passenger electric shuttles. The Hub also provides shelter from the elements for public transportation riders and secure storage for bikes, boards, and other green forms of transportation, along with a handy bicycle repair station.
The Mobility Hub at LTCC is part of a broader plan to bring clean transportation to the Tahoe Basin and to encourage LTCC students, staff, the community, and visitors to the Basin to use clean and green public transportation and to cut down on the use of fossil fuels.
The other two nominees for the Tallac Achievement Award, Caltrans for its U.S. Highway 50 projects and the Bijou Park Creek Watershed Restoration Project, share something in common with LTCC's Mobility Hub – all three are the results of partnerships that are enhancing the community.
"As a leader, I believe in the power of partnership, and this project is just another example of how partnership has benefitted our community," said LTCC Superintendent/President Jeff DeFranco.
The Mobility Hub is possible because of LTCC's partnership with TTD and its coming electric fleet of buses, and with Liberty Utilities, which is bringing in the power lines from Al Tahoe Boulevard onto LTCC's campus to provide the electricity to power the Hub and electric vehicle charging spots in LTCC's main parking lot. The South Shore community and its taxpayers is also a partner in this project, which was largely funded by Measure F bond monies.
A special thank you to LTCC's bond and facilities teams, including Al Frangione, Ami Chilton, Darci Osika and Russi Egan. Thanks also to LTCC's Board of Trustees, who threw their full support behind the Mobility Hub despite it being an uncertain proposition when it was first envisioned. Thanks also to the ADVANCE team and director Frank Gerdeman for consistently making public transportation a top priority, and encouraging student and staff use of public transport by putting ADVANCE dollars behind it, making free, unlimited bus rides available to all LTCC students and staff.