Taste of Gold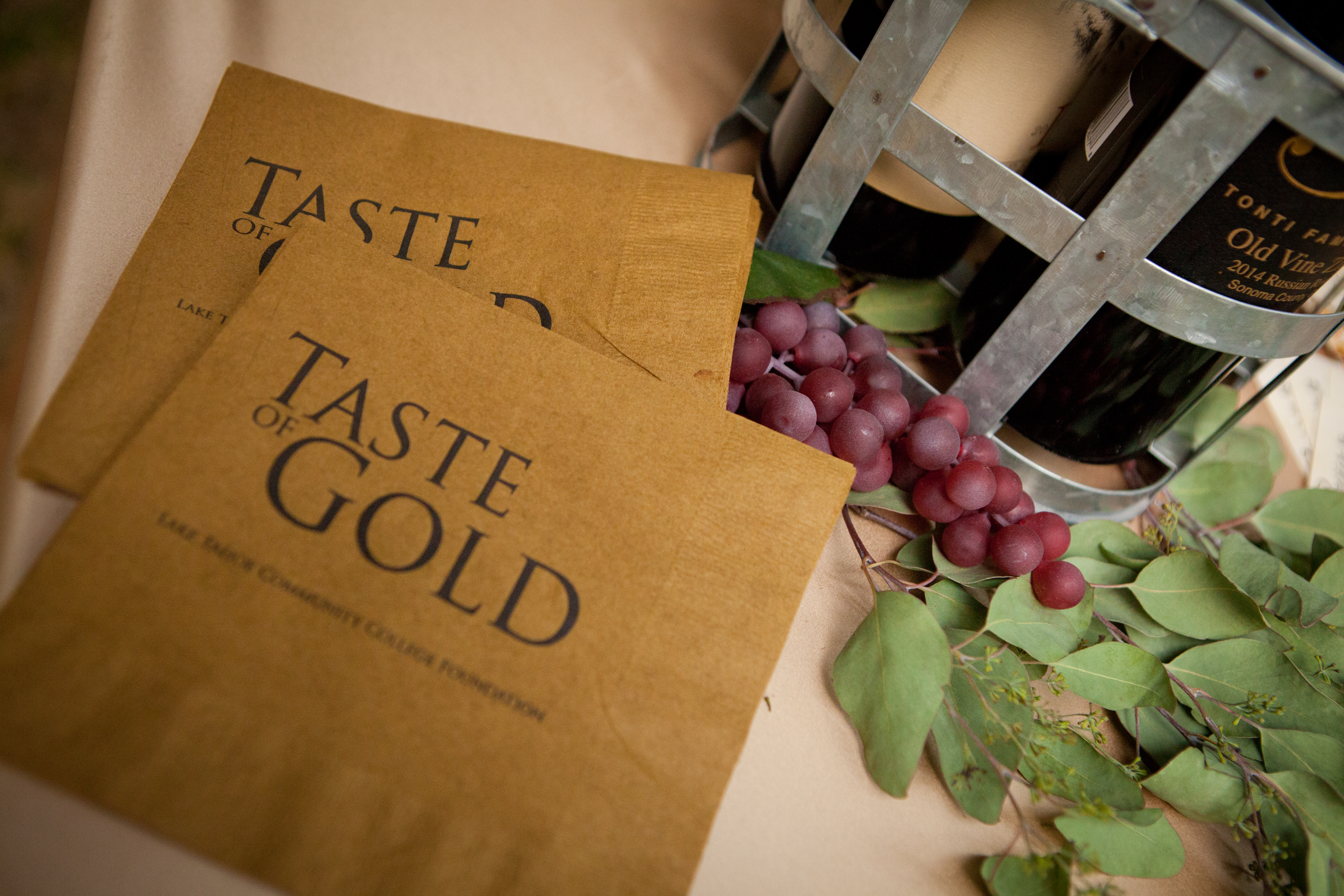 Taste of Gold, the LTCC Foundation's annual fundraiser in support of students and academic programs, takes place Saturday, August 5 from 6pm-8pm. Enjoy an evening under the pines on our beautiful mountain campus, with award-winning California wines and a generous sampling of tasty treats from Lake Tahoe area restaurants and eateries. Proceeds from this event directly help students by supporting programs including the Lake Tahoe College Promise (provides free tuition for up to 3 years), Student Success Grants, and the emergency textbook fund. These programs support bright, hard-working students who can reach their full potential, with your support!
The 2023 Taste of Gold event will be held by the Coyote Legacy Plaza, located near the PE Building on LTCC's campus, with comfortable seating and plenty of shade.
Visit the LTCC Foundation's new Taste of Gold webpage to learn more about being an event sponsor!
---
Thanks to the event sponsors, vendors,
volunteers and attendees
for making 2022's Taste of Gold
a success and raising over $130,000
to support LTCC students!
The annual fundraiser was held in a new location on the Community Play Fields, adjacent to LTCC's campus. Attendees enjoyed California wines, beers from local breweries and culinary creations from local restaurants. The Henry Undercover Band with lead vocalist Whitney Myer, a 2021 Voice contestant, was a crowd pleaser and stayed for an encore set!
View Event Layout & Participating Vendors on the Event Map
Stay tuned for details for the 2023 event. We plan to announce the date in the fall!
---
THANK YOU TO OUR 2022 SPONSORS
24K Gold Sponsor


14K Gold Sponsors
10K Gold Sponsor
Alice and Paul Baker
Barton HealthCare System
BFI-Inspections
Judy and Tim Breza
Cathy Cox
Cumming Management Group, Inc.
Kerry and Wendy David
El Dorado Community Foundation
Forest Suites Resort
GOAL Foundation
Vikki and Peter Grant
Hotel Azure Tahoe
JK Architecture Engineering
JP Morgan Chase Bank
McKenna Family Giving Fund
Paydel and Rygel
ReliaPro Painters
Ed and Sara Roos
The Landing Resort & Spa
JoAnn and Joe Tillson
Fritz and Patience Wenck
5K Gold Sponsor
Alpen Sierra Coffee
Beach Retreat and Lodge
Lake Tahoe Boat Rides
Jason S. Reid DMD and Deanna Brothers DDS
Genasci and Stigers Family Dentistry
NCE
Cece Bachelder
Michelle Batista
Diane and Allan Bisbee
LTCC Deans Ali Bissonnette and Brad Deeds
Ellen and Paul Camacho
Bob and Cathy Cliff
Gregory Cremeans
Nancy and John Dalton
Leslie De Tarr
Kasey and Jeff DeFranco
Dr. James W. Duke
Russi and Eric Egan
Ray Gamba
Bill and Maggie Gordon
Jerald Lasarow and Lynne Hansen
The Malmed Family
Mary's Drapery and Interior Design
Steve Noll
Joy and Dan Norem
Liz and Dan Norman
Novasel & Schwarte Investment, Inc.
The Novasel Family
Tony and Beth Sears
Craig Swarthout
Tere and Malcolm Tibbetts
Would you like to sponsor the 2022 Taste of Gold?
Sponsorships range from $600 to $10,000 with numerous promotional advantages.
Taste of Gold supports LTCC students

who need your help more than ever.
---
Donations are used to support students directly through the Lake Tahoe College Promise, which provides free financial, counseling and academic support to LTCC students. Academic programs and departments at LTCC also directly benefit from the Foundation's many generous Taste of Gold donors.
Can't make the event? You can still donate to support students!

Nancy Harrison

Executive Director of Foundation & College Advancement | (530) 541-4660 x 245

email