Writers' Series
The LTCC Writers' Series brings well-known poets and writers from all over the country to the college for readings, book signings, craft talks, and workshops. All events are free and open to the public.

We have hosted writers such as Carolyn Forché, Patricia Smith, Pam Houston, Luis Rodriguez, Dorianne Laux, Joseph Millar, Holly Payne, Kevin Clark, Gailmarie Pahmeier, Sholeh Wolpé, David Daniel, H.L. Hix, Francisco Jimenez, Juan Felipe Herrera, and Chris Abani. We also sponsor faculty readings, poetry open mic nights, and the annual Kokanee Literary Journal award reading.
Upcoming Events
---
Writer & Humorist Michael Branch
Thurs. Oct. 20 @ 8 p.m. in the Roberta Mason Library

Michael Branch is the author of more than 200 essays, articles, and reviews, and has given more than 250 public readings and lectures. His creative non-fiction includes pieces that have received Honorable Mention for the Pushcart Prize and have been recognized as Notable Essays in The Best American Essays, The Best American Science and Nature Writing, and The Best American Nonrequired Reading. His essays have appeared in magazines including Orion, Ecotone, Slate, Utne Reader, Sunset, Reader's Digest, Hawk and Handsaw, High Country News, Places, and Whole Terrain, and in many essay collections, including Wonder and Other Survival Skills, The Best Creative Nonfiction, and Companions in Wonder: Children and Adults Exploring Nature Together. He is cofounder of the Association for the Study of Literature and Environment (ASLE), and he served for 16 years as the Book Review Editor of the creative/scholarly journal ISLE (Interdisciplinary Studies in Literature and Environment). Mike is Professor of Literature and Environment in the English Department at the University of Nevada, Reno, where he cofounded the nation's first graduate program in Literature and Environment studies.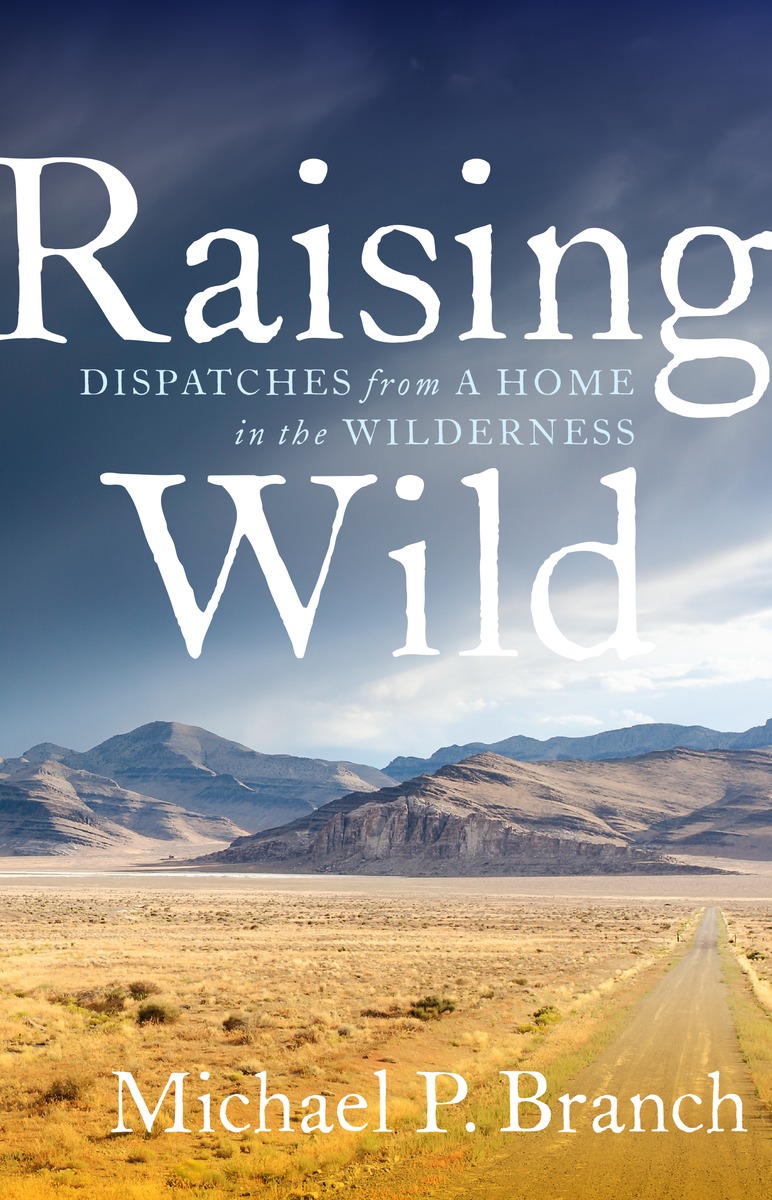 Michael has been writing about life in Nevada's Great Basin Desert with an audacity, lyricism, and wit all his own. In Raising Wild, Branch offers an intimate exploration of the western high desert. Here we find the wild and extreme land of caliche and juniper, where pronghorn antelope run and mountain lions stalk, where wildfires and snowstorms threaten in equal measure, and where Branch, his wife, and their two curious little girls brazenly live among the packrats and ground squirrels, rattlesnakes and scorpions.
"If Thoreau drank more whiskey and lived in the desert, he'd write like this. "
—High Country News
Previous Events
---
Daniel Chacón
Daniel Chacón is the author of Hotel Juárez: Stories, Rooms, and Loops (2013), which won both the 2014 Pen Oakland Award for Literary Excellence and the Tejas NACCS Award for Best Book of Fiction for 2013. His collection of short stories, Unending Rooms, won the 2008 Hudson Prize. He also has a novel, And the Shadows Took Him, and another collection of stories called Chicano Chicanery. His fiction has appeared in the anthologies "Latino Boom"; Latino Sudden Fiction"; "Lengua Fresca: Latinos Writing on the Edge"; "Caliente: The Best Erotic Writing in Latin American Fiction"; and "Best of the West 2009: New Stories from the West Side of the Missouri." He co-edited "The Last Supper of Chicano Heroes: The Selected Work of José Antonio Burciaga" and is editor of "A Jury of Trees: The Posthomous Poems of Andrés Montoya," forthcoming from Bilingual Press and The Institute for Latino Studies at Notre Dame. Chacón is recipient of The Hudson Prize, a Chris Isherwood Foundation Grant, The American Book Award, The Pen Oakland, and the Peter and Jean de Main Emerging Writers Award, among others. He also co-hosts a literary radio show along with fellow writer Tim Z. Hernandez called Words on a Wire Sundays at noon on KTEP.

Novelist Rebecca Makkai
Rebecca Makkai is the Chicago-based author of the novels The Hundred-Year House, winner of the Chicago Writers Association's Novel of the Year award, and The Borrower, a Booklist Top Ten Debut that has been translated into eight languages. Her short story collection, Music for Wartime, appeared in June 2015. Her short fiction was chosen for The Best American Short Stories for four consecutive years (2011, 2010, 2009 and 2008), and appears regularly in journals like Harper's, Tin House, and New England Review. The recipient of a 2014 NEA fellowship, Makkai is visiting faculty this fall at the Iowa Writers' Workshop.
Poet & Journalist Ilyse Kusnetz
Ilyse Kusnetz is the author of Small Hours, winner of the 2014 T.S. Eliot prize from Truman State University Press, and The Gravity of Falling (2006). She earned her M.A. in Creative Writing from Syracuse University and her Ph.D. in Feminist and Postcolonial British Literature from the University of Edinburgh. Her poetry has appeared in Crab Orchard Review, the Cincinnati Review, Crazyhorse, Stone Canoe, Rattle, and other journals and anthologies. She has published numerous reviews and essays about contemporary American and Scottish poetry, both in the United States and abroad. She teaches at Valencia College and lives in Orlando with her husband, the poet and memoirist Brian Turner.
Poet & Farmer Julia Shipley

Julia Shipley is the author of a full-length poetry collection, The Academy of Hay (Bona Fide Books, 2015), winner of the Melissa Lanitis Gregory Poetry Prize, and a long-form lyric essay, Adam's Mark, (Plowboy Press, 2014), which was selected as a Boston Globe Best New England Books of 2014. She is also the author of four poetry chapbooks including the limited edition, letterpress printed One Ton Crumb (CC&B, 2014), First Do No Harm (Honeybee Press, 2014), Herd (2010), winner of the Sheltering Pines Press Chapbook Award and Planet Jr. (2012), winner of the Hazel Lipa Environmental Chapbook Award from Flyway Journal of Writing and Environment. A native of southeastern Pennsylvania, Julia spent part of her undergraduate degree in Environmental Education traveling throughout the western U.S. with the Audubon Expedition Institute. She migrated from farm to farm, working for Community Supported Agriculture projects in the Northeast. For the last decade, she's tended the soils in Northeastern Vermont. Her work is often concerned with place, the fate of landscapes, agrarian ideals, and stories that track things from their germinations through their harvests and beyond.
Poet, Teacher, Human Rights Activist Carolyn Forché
Forché's first poetry collection, Gathering the Tribes (1976), won the Yale Series of Younger Poets Competition, leading to publication by Yale University Press. In 1977, she traveled to Spain to translate the work of Salvadoran-exiled poet Claribel Alegría. She then received a Guggenheim Fellowship, which enabled her to travel to El Salvador where she worked as a human rights advocate. Her second book, The Country Between Us (1981), was published with the help of Margaret Atwood. It received the Poetry Society of America's Alice Fay di Castagnola Award, and was also the Lamont Poetry Selection of the Academy of American Poets. She won the 2006 Robert Creeley Award.

Her articles and reviews have appeared in The New York Times, The Washington Post, The Nation, Esquire, Mother Jones, Boston Review, and others. Forché has held three fellowships from the National Endowment for the Arts, and in 1992 received a Lannan Foundation Literary Fellowship. Her fourth book of poems, Blue Hour, was released in 2003. Other books include a memoir, The Horse on Our Balcony (2010, HarperCollins); a book of essays (2011, HarperCollins); and a fifth collection of poems, In the Lateness of the World (Bloodaxe Books, due out in 2015). Although Forché is sometimes described as a political poet, she considers herself a poet who is simply politically engaged.