Current Season
LTCC Theatre Season 2016/17


---
Winter 2017

LOVE/SICK by John Cariani
Auditions: Tuesday, January 17 @ 7pm in the Duke Theatre
Performances: March 17-26, 2017 in the Duke Theatre
About the Play
This quirky comedy is a collection of nine slightly twisted and completely hilarious short plays. Set on a Friday night in an alternate suburban reality, this romp explores the pain and the joy that comes with being in love. Full of imperfect lovers and dreamers, LOVE/SICK is an unromantic comedy for the romantic in everyone.
---
Spring 2017
9 to 5: The Musical
Music and Lyrics by Dolly Parton
Book by Patricia Resnick
Auditions: Monday, April 10 7pm in the Duke Theatre
Performances: June 16-25, 2017 in the Duke Theatre
About the Play
Based on the hit movie, this high-energy musical has fun characters, great songs, and splashy dance numbers! Set in the late 1970s, this hilarious story of friendship and revenge in the Rolodex era is outrageous, thought-provoking and even a little romantic. Pushed to the boiling point, three female coworkers concoct a plan to get even with the sexist, egotistical, lying, hypocritical bigot they call their boss. In a hilarious turn of events, Violet, Judy and Doralee live out their wildest fantasy – giving their boss the boot! While they make sure their boss is "otherwise engaged," the women give their workplace a dream makeover, taking control of the company that had always kept them down. Hey, a girl can scheme, can't she?
Fall 2016

A Christmas Carol by Charles Dickens
Adapted by Susan Boulanger
Peformances: Sat. Nov. 12 & Thurs. through Sat. Nov. 17-19 at 7:30pm. Matinée performances are Sat. Nov. 19, and Sun. Nov. 13 and Sun. Nov. 20 at 2pm.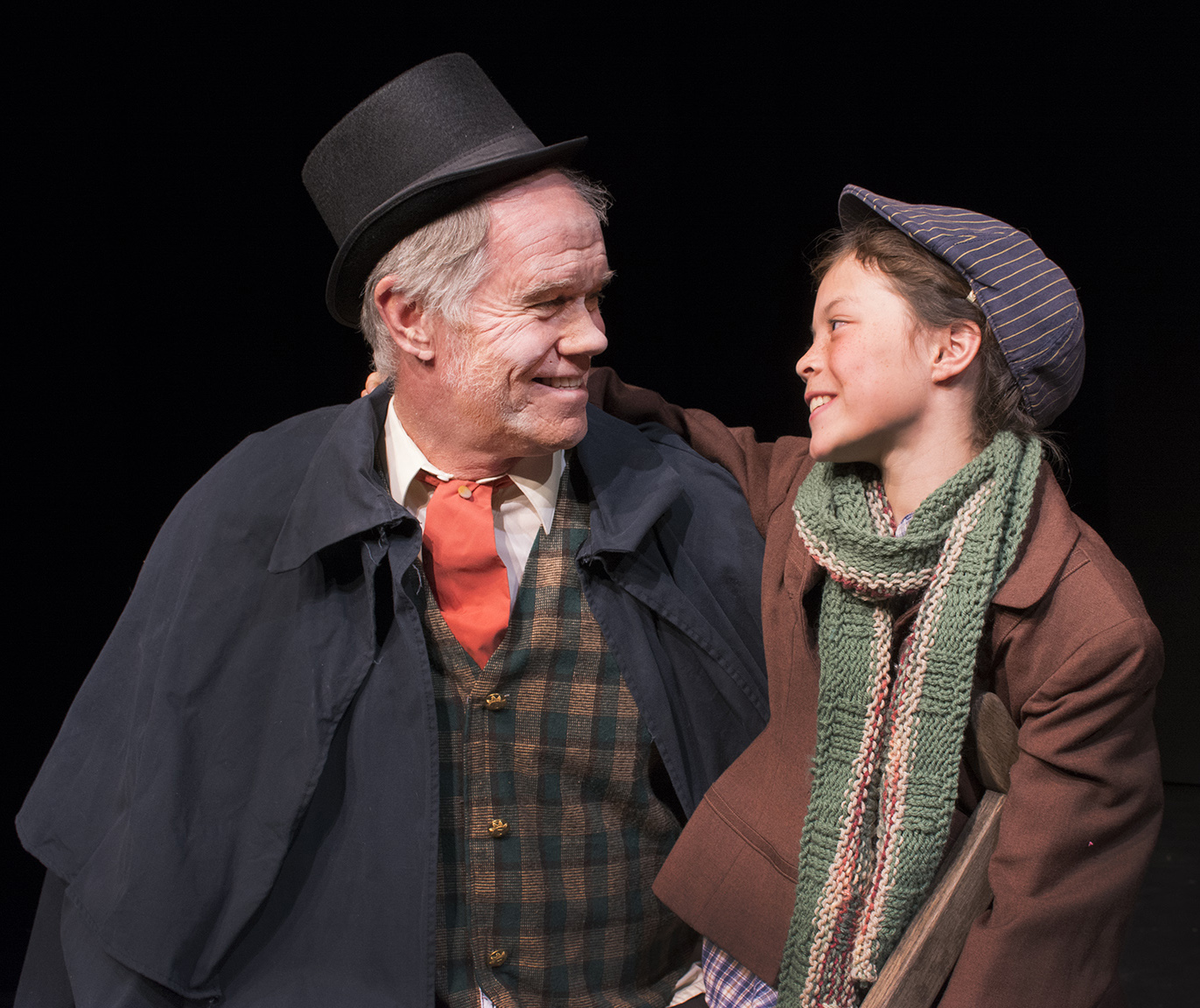 The holiday season will be welcomed in with a brand new stage adaptation of the classic Charles Dickens tale, A Christmas Carol, presented by the Theatre Department at Lake Tahoe Community College. This new adaptation reawakens the true spirit of Christmas as it takes a fresh look at the inspiring holiday favorite. The show will be presented in the Duke Theatre, November 12-18.
Written by Susan Boulanger, LTCC's Director of Theatre, this quick-paced adaptation tells the Dickens masterpiece with humor and poignancy. With a heart locked up tighter than a cashbox, Ebeneezer Scrooge is taken on a harrowing journey by three spirits for the chance to open up his heart and embrace his fellowman. Scrooge is forced to face his past, present, and future, as he struggles with his own pain and the notion of forgiveness. As he begins to see how he is connected to the world around him, he opens his heart to love and redemption.
Twenty actors, including seven children, play a multitude of characters in this highly theatrical presentation. Local favorite Dave Anderson, of Gardnerville, plays the iconic "Scrooge." Playing all of the other characters are Chris Scott, Russ Williams, Matthew Lee, Alicia Agnew, Amber Smith, Astraea Marion, Ellen Martin, Riley Mitchell, AnnaMaria Dixon, Tessa Dixon, Wanda Smith of South Lake Tahoe; Fritz Schlottman of Dayton; and the children's roles are played by Maddy Evans, Sam Evans, Sage Smith, Aspen Smith, Gilberto Aguirre, Kendall Wilson, and Yona Abiko, all of South Lake Tahoe.
A special holiday party will take place for audience members before the matinee performance on Saturday, November 19. The party begins at 1:00pm, and the matinee performance starts at 2:00pm. Patrons are encouraged to buy tickets in advance or arrive early to purchase tickets for this special matinee performance.
Performances of A Christmas Carol are Saturday, November 12 and Thursday through Saturday, November 17-19 at 7:30pm; matinee performances are Saturday, November 19, and Sundays November 13 and 20 at 2:00pm.
Tickets for A Christmas Carol are $10 general admission, and $7 for seniors, groups of eight or more, and $5 for children under 13, and students with a valid student I.D. Tickets may be purchased in advance at LTCC's Bookstore Monday through Thursday, 10 a.m. to 7:30 p.m., and Fridays 9 a.m. to 2:30 p.m. starting November 7. LTCC's Box Office will be open for ticket sales one hour prior to all performances.
High school and college students are invited to attend the performance on Thursday, November 17 for free. Present a valid student I.D. at the box office on the night of the performance for a free ticket as long as tickets are available. These free tickets are not available in advance of the performance and are only available for high school and college students.
For more information, please check the Theatre Arts webpage a www.ltcc.edu/theatrearts, or the Theatre Arts Facebook page at www.Facebook.com/LTCCTheatreArts. You can also call the Theatre Department at (530) 541-4660 ext. 240, or send an email to Boulanger@ltcc.edu.


CAST:
Scrooge - Dave Anderson
Fred/Young Man Scrooge/Narrator - Jered Stowell
Marley, Fezziwig, Ghost/Christmas Future, Narrator - Fritz Schlottman
Old Joe, Belle's Husband, Businessman #1, Narrator - Russ Williams
Bob Cratchit, Schoolmaster, Narrator - Chris Scott
Michael, Dick Wilkins, Businessman #5, Narrator - Matthew Lee
Mrs. Cratchit, Narrator - Amber Smith
Belle, Businesswoman #2, Narrator - Tessa Dixon
Chartity Worker #1, Mrs. Fezziwig - Wanda Smith
Constance, Narrator - Riley Mitchell
Charity Worker #2, Narrator - Alicia Agnew
Charwoman, Narrator - Annamaria Dixon
Laundress, Narrator - Ellen Martin
Caroline, Maid, Narrator - Audrey Langmayer
Undertaker's Assistant, Narrator - Astraea Marion
Ghost of Christmas Past, Martha, Narrator - Maddy Evans
Tiny Tim, Schoolgirl, Belle's Daughter, Narrator - Yona Abiko
Belinda, Old Joe's Assistant, Narrator - Kendall Wilson
Angelique, Ignorance, Schoolgirl, Belle's Daughter, Narrator - Sage Smith
Fan, Carol Ann, Narrator - Aspen Smith
Ghost of Christmas Present, Boy Scrooge/Young Scrooge, Boy in the Street, Narrator - Sam Evans
Peter, Old Joe's Assistant, Schoolboy, Belle's Son, Narrator - Gilberto Aguirre