Athletics Staff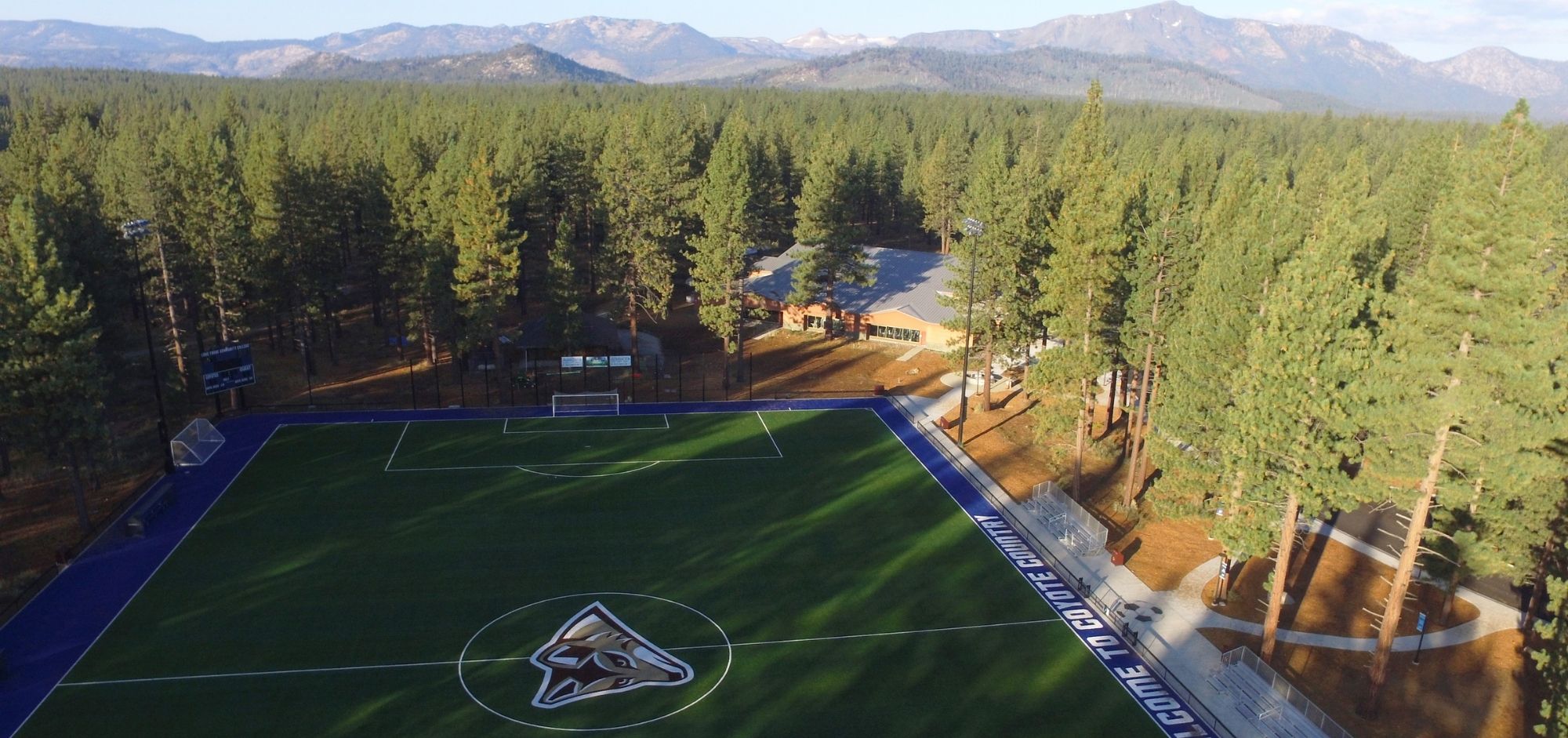 Head Men's & Women's Soccer Coach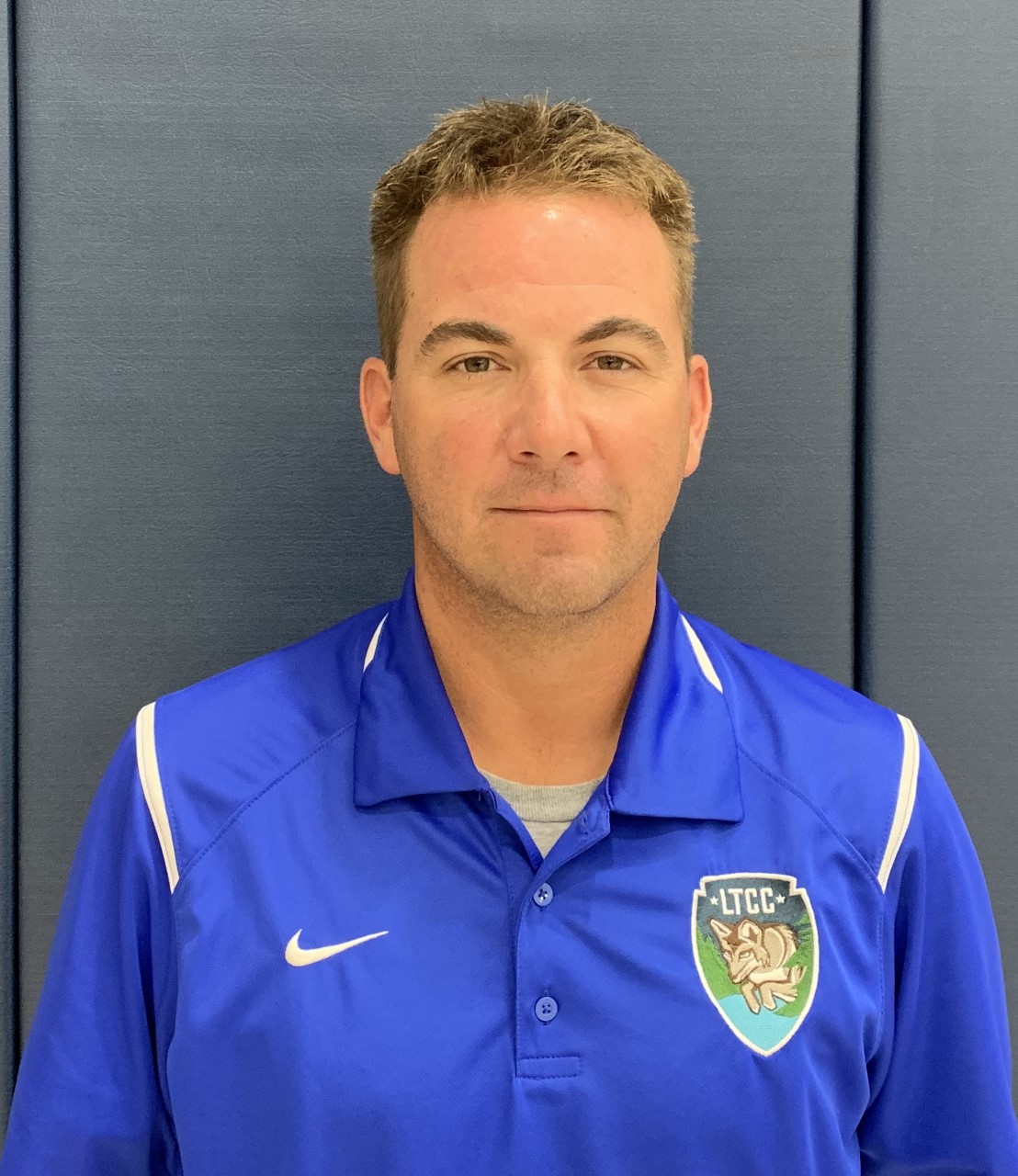 Jeremy Evans, Head Men's and Women's Coach (7th season): Four-time Golden Valley Conference Coach of the Year, the 2019 California Community College Soccer Coaches Association Northern California Coach of the Year and a two-time finalist for the United Soccer Coaches Junior College Division III National Coach of the Year, Jeremy has built the Lake Tahoe CC women's program into one of the nation's elite since inheriting the program in 2015 (he took over the LTCC men's program in 2019).
On the women's side, Jeremy has a career coaching record of 86-26-17 (.711), including a 52-7-9 mark the past three years (.830). His teams reached back-to-back CCCAA Final Fours in 2018 and 2019, including a runner-up finish in 2018. His teams have won four consecutive Golden Valley Conference titles (2017-2021), going 42-0 during that span and outscoring conference opponents 275-5.
His women's teams have been nationally ranked at least one week every season since 2017. From 2017-2019, LTCC was ranked in 27 consecutive United Soccer Coaches national top-20 polls, was ranked in the top-ten nationally in 25 consecutive weeks, was ranked in the top-five nationally in 20 consecutive polls, and spent six weeks in 2019 ranked as the No. 1 team in the country. LTCC is one of only four Northern California JC programs to be ranked No. 1 nationally.
Jeremy has produced 46 all-conference players, 14 conference players of the year, seven United Soccer Coaches all west-region players, seven USC Scholar All-Americans, and five USC All Americans (all first-team selections). More than 90 percent of his sophomores have received four-year offers to continue playing collegiately, and more than 70 percent of his sophomores have accepted those offers, which is one of the highest sophomore transfer percentages in the country. His players have transferred to NCAA Division I, Division II, Division III and NAIA programs. He's also coached two players that have played professionally in the Portuguese first division (Madison Boyd and Lauren Wolcott).
Prior to arriving at LTCC, Jeremy was a two-time Nevada Division I-A State Coach of the Year after leading South Tahoe High to back-to-back Nevada High School State Championships in 2013 and 2014. He compiled a 38-5-4 career record (.810). His 2013 team finished ranked No. 15 in the NSCAA Region VI Fall Rankings (CA, WA, OR, UT, NV, NM, ID) and finished No. 1 in Nevada (all classifications) in 2013 by Max Preps.com.
In the spring of 2019, Jeremy inherited an LTCC men's program reeling with sanctions from the previous coaching and has since guided the program back among Northern California's best. He has a two-year overall coaching record of 21-15-5 (.573), and his teams have finished 14-5-3 (.705) in Golden Valley Conference play. The Coyotes finished second in 2019 with a program-record nine wins and third in 2019, and they earned a berth into the Northern California Regional Playoffs in 2021.
Jeremy holds a USSF License and is also a former Director of Coaching for South Tahoe Futbol Club.
As a player, he played at NCAA Division I Marquette University after transferring from nationally-ranked Phoenix College, an NJCAA program. He played semi-professionally in the Premier Development League and is a former member of the Arizona-based Tucson United and Cisco soccer clubs.
Jeremy Evans's Women's Collegiate Coaching Record Through the Years
Year Coach Overall GVC Record GVC Finish Final Nat'l Ranking
2021 Jeremy Evans 11-5-3 (.657) 8-0 (1.000) 1st None
2019 Jeremy Evans 21-1-2 (.916) 10-0 (1.000) 1st 5th
2018 Jeremy Evans 20-1-4 (.880) 11-0 (1.000) 1st 3rd
2017 Jeremy Evans 17-3-3 (.804) 12-0 (1.000) 1st 10th
2016 Jeremy Evans 11-5-4 (.650) 10-2 (.833) 2nd None
2015 Jeremy Evans 6-11-1 (.361) 4-6 (.400) 4th None
Note: No season in 2020 due to Covid-19
Jeremy Evans's Men's Collegiate Coaching Record Through the Years
Year Coach Overall GVC Record GVC Finish Final Nat'l Ranking
2021 Jeremy Evans 10-8-3 (.547) 5-3-2 (.600) 3rd None
2019 Jeremy Evans 11-7-2 (.600) 9-2-1 (.791) 2nd None
Note: No season in 2020 due to Covid-19
---
Assistant Soccer Coach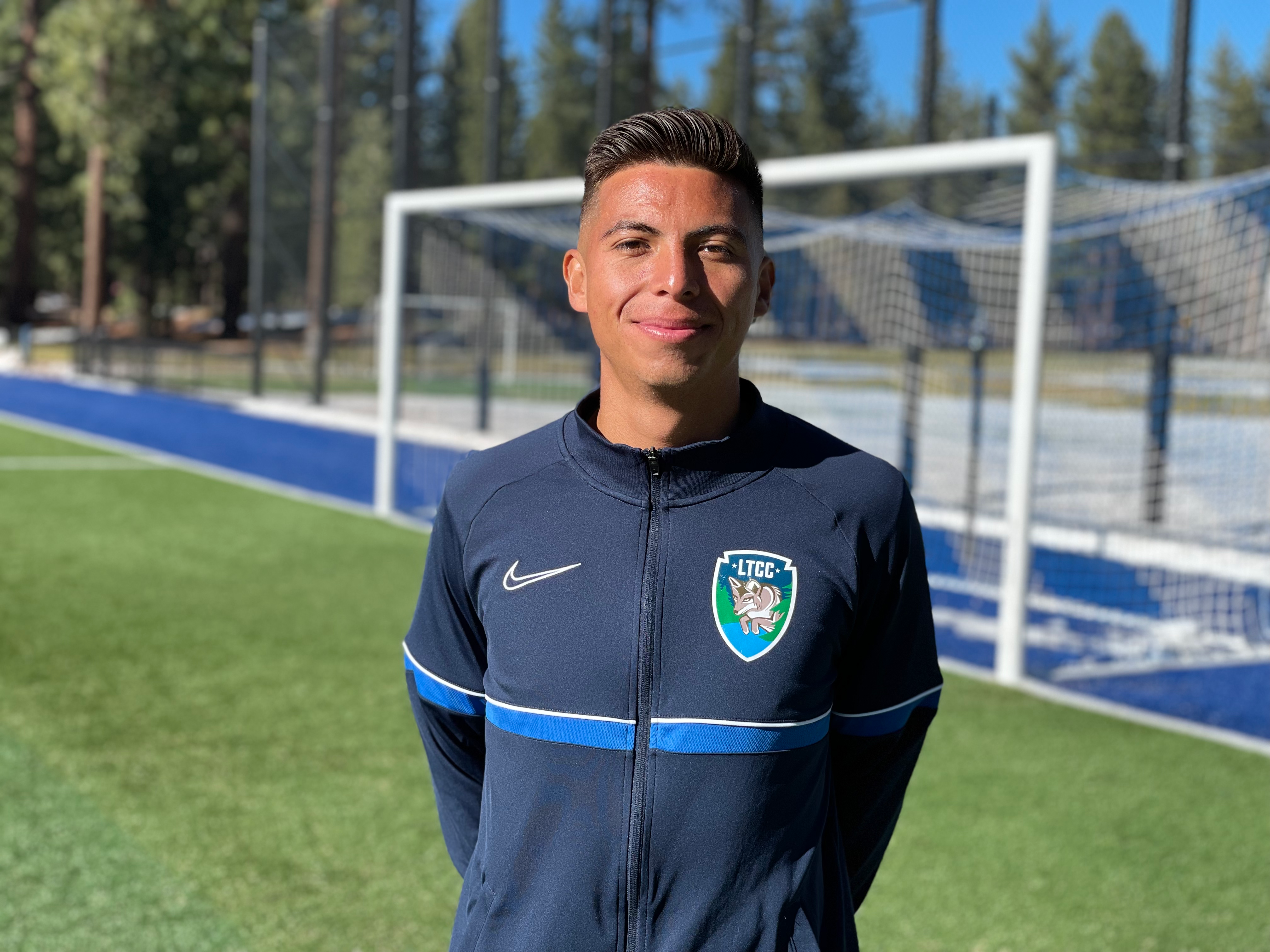 Miguel Prieto

Miguel Prieto (2nd season), Assistant Coach: An LTCC alumnus, Miguel recently completed his first season as an assistant coach for our men's and women's soccer teams. Prior to joining the LTCC staff, he was the head men's coach at Kansas Wesleyan University (NAIA) where he led the Coyotes to a 4-8-2 overall record in 2020. He served as an assistant at Kansas Wesleyan in 2019 when the team went 10-9-1 and an 8-3-1 mark in conference play.
Miguel received his B.S. in Sociology from Kansas Wesleyan in 2018 and his Master's in Business Administration with a sports emphasis in 2021. He played two years at KWU, earning second-team all-KCAC honors as a senior in 2018. He helped the Coyotes to a 17-5 overall record and a KCAC Championship, as well as an appearance in the NAIA National Championship.
Miguel also works as a staff coach at South Tahoe Futbol Club.
---
Assistant Soccer Coach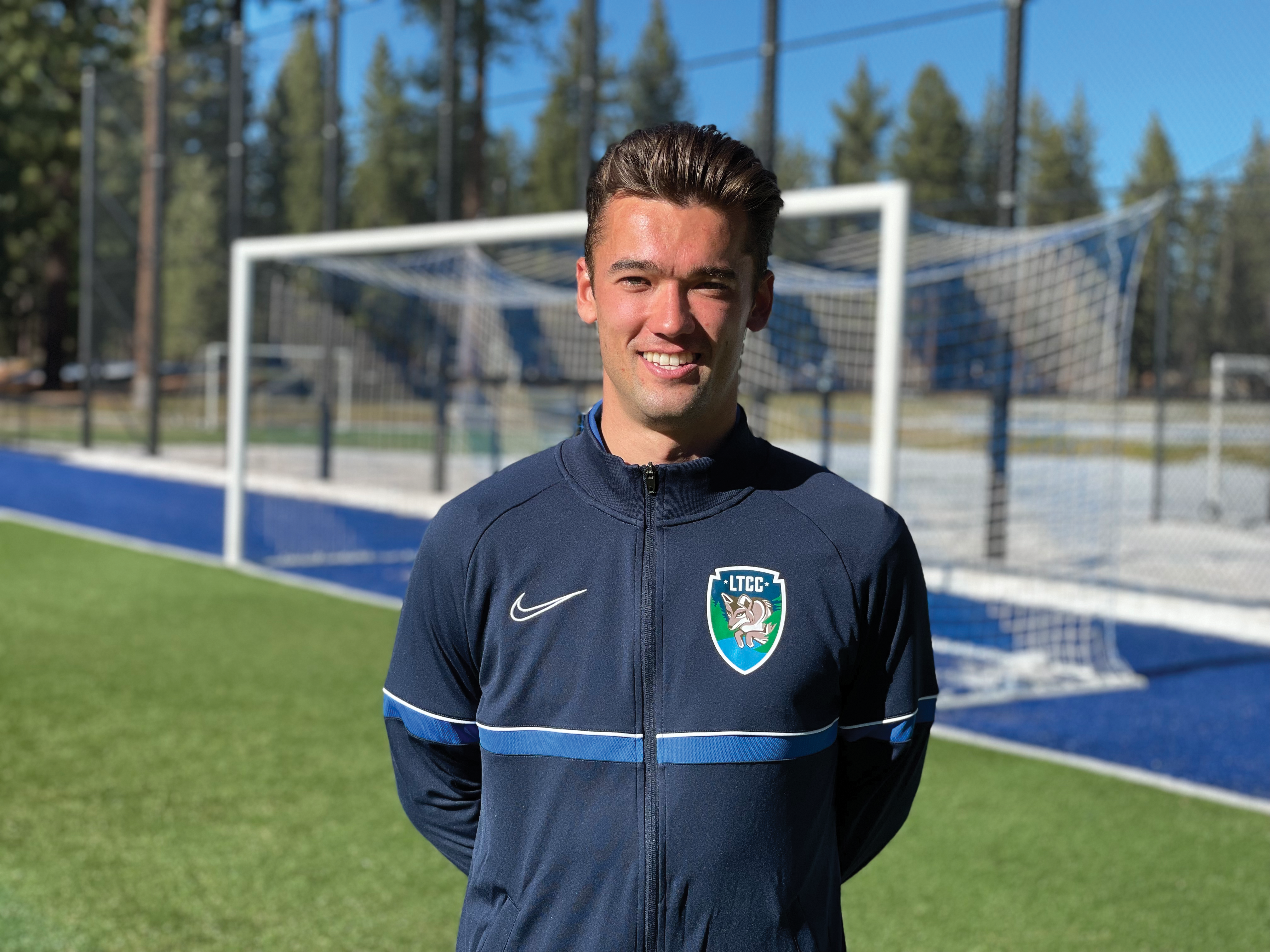 Jack Larter

Jack Larter, Assistant Coach (3rd season): An LTCC alumnus, Jack completed his second season as the assistant coach for our men's and women's soccer teams. Before arriving at LTCC, he served one year as a volunteer assistant at Folsom Lake College women's program.
As a player, he graduated from Sacramento State University with a B.S. in Kinesiology, with an emphasis in coaching. He was a two-year member of the NCAA Division I men's program at Sacramento State and was named the team's defensive Most Valuable Player in 2018.
Originally from England, Jack transferred to Sacramento State after an illustrious career at Lake Tahoe Community College. As a freshman, he was part of the most successful team in men's program history, winning the Golden Valley Conference title and advancing to the CCCAA Final Four and ending the season ranked No. 7 nationally. In 2016, he was named conference MVP and first-team all-conference as a sophomore with the Coyotes.
Prior to arriving in the United States, Jack played and studied at Easton College for three years studying a Level 3 sports qualification learning multiple skills such as sports psychology, sports analysis, and sports injuries to name a few. Jack played at the highest college level in England known as English college's category 1 league before committing to Lake Tahoe Community college to play and study.
Jack has also been a staff trainer for South Tahoe Futbol Club since 2019.
---
Ryan Carr, (2nd season), Assistant Coach: Ryan is LTCC soccer's goalkeeper coach and strength and conditioning coach. Boasting an extensive and impressive background for the past 15 years, Ryan has been a goalkeeper and sports performance coach at the NCAA Division I level following an impressive collegiate career.
After graduating from the University of Hartford, where he was a four-year starter and two-time captain for the Division I program, he was invited to the Major League Soccer (MLS) combine in 2006. In 2006, he became Hartford's goalkeeper and strength and conditioning coach for the next five years. During his stint at Hartford, he worked as the national director of the Star Goalkeeper Academy, was an ODP goalkeeper coach for Connecticut, earned his Advanced National Goalkeeping diploma, and worked at multiple youth soccer clubs.
After leaving Hartford, he worked as a sports performance coach at NCAA Division I Princeton University, Iona College, and Seton Hall University. He is currently pursuing his doctorate in sport and performance psychology with an emphasis on positive leadership administration. He also serves as LTCC's strength and conditioning coordinator while leading the sports performance program at Barton Health in South Lake Tahoe.
Ryan enjoys spending time with his wife, who is also an accomplished coach and educator, and is the father of two boys. He resides in South Lake Tahoe where he continues to play soccer.
---
Athletic Trainer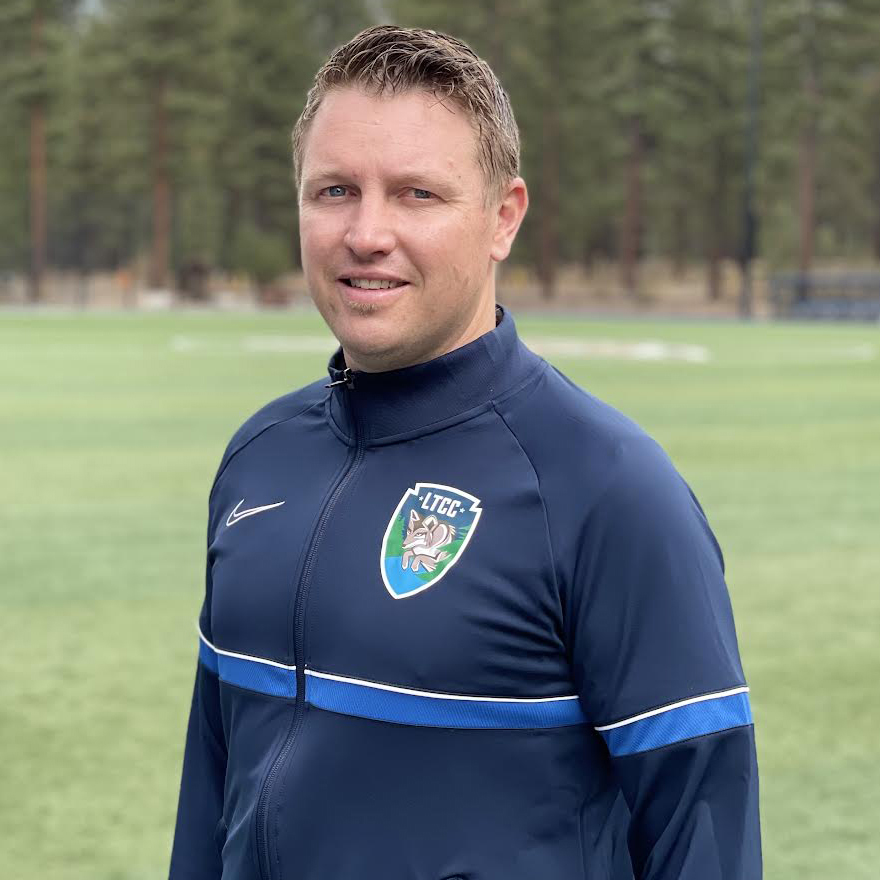 Jeremy Vandehurst
jvandehurst@bartonhealth.org
(530) 208-8253
---
Vice President of Student Services
---
Athletic Director
---
PE Program Assistant

Judy Crum

---
Athletics Counselor