Outstanding LTCC Faculty Members Honored
June 30, 2018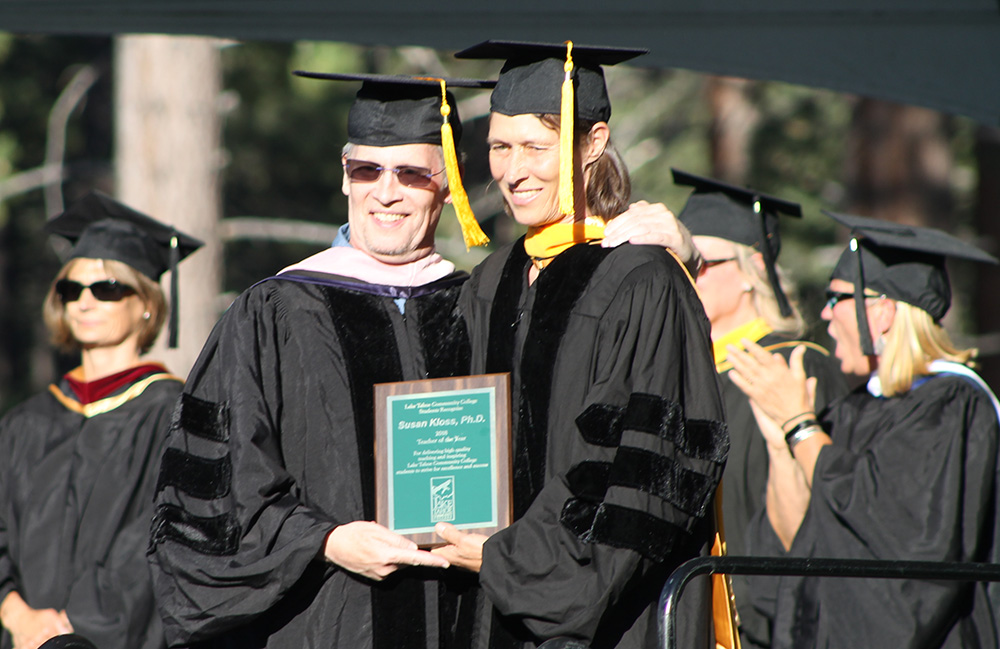 Lake Tahoe Community College Accounting/Business instructor Dr. Jon Kingsbury, World Languages instructor Catalina Goralski, and Biological Sciences instructor Dr. Sue Kloss are all being honored for their outstanding work in the classroom and their dedication to LTCC's students. Dr. Kingsbury was chosen by his fellow LTCC faculty members as the Distinguished Faculty Award winner for 2018. Goralski was also selected by her fellow faculty members as their choice for Distinguished Adjunct Instructor of the Year. Dr. Kloss was selected by LTCC's students for Teacher of the Year. Each award winner will personally receive $500 each thanks to a generous donation by the LTCC Foundation. They will also each get to direct another $500 towards the LTCC academic program or student scholarship of their choice.
Dr. Kingsbury was hired in 2004 as the college's Accounting/Business faculty member. He holds a B.B.A. in Business Administration: Accounting/Finance from the University of Massachusetts, an M.B.A. in Business Administration: Finance/Management from the University of Massachusetts, and an Ed.D. in Multicultural Education from Alliant International University. Dr. Kingsbury teaches both accounting and business courses, and also serves as the college's Academic Senate Vice President.
"Jon and I have worked closely for Academic Senate in several capacities over many years," said LTCC Academic Senate President and Music Department instructor Dr. Mark Williams. "He is always willing to go above and beyond the call of duty for his students and for the college."
Goralski was first hired by LTCC as an Intensive Spanish Summer Institute (ISSI) conversation leader and class session leader in 2009. She joined the World Languages department as a Spanish adjunct instructor in 2010. That same year, she was also hired to be the bilingual office assistant for the Student Services department on campus, a role she served for two years. Goralski has a B.S. degree in Political Science and a B.S. in Social Sciences, both from Gabriela Mistral University in her native Chile, and she has a Master's in Spanish Language and Literature from the University of Nevada, Reno. She continues to teach Spanish courses for both the World Languages department and for ISSI each summer, and also serves on LTCC's Equal Employment Opportunity advisory committee.
Dr. Williams said, "I have known Cata for many years, through her work with ISSI. I'd often find her working in the hallway outside my office. She is a dedicated and hard-working faculty member who sincerely cares about all her students."
Dr. Kloss started at LTCC in 2001 as a Biological Science faculty member, and has been one of the most popular LTCC instructors ever since. She teaches a mix of Biology, Ecology, and Botany courses. She earned her B.S. degree in Health, Physical Education, Recreation and Dance from Westchester State College, her M.A. in Education/Sports Sciences from the University of Connecticut, and her M.S. and PhD degrees in Wildland Resource Sciences from the University of California, Berkeley.
LTCC Natural Sciences student Alexandra Grant said, "I broke my leg at the start of spring quarter this year and missed some classes. Sue was just so amazing and accommodating, and so understanding, which I think says a lot about her character. In class she's super passionate, and you can see how excited she is about her field – it gets me into it, too. Before our first exam, Sue gave out her home phone number to all of us, in case we needed anything or had a question about something. I've never seen that before in my years as a student."
LTCC's Distinguished Faculty Award, Distinguished Adjunct Faculty Award, and the Teacher of the Year Award are made possible through the support of the college's Foundation and its many generous donors. The Foundation recognizes the importance of high-quality instruction, and each year honors the very best instructors at the college with financial support they can use to further their own educations and to enhance the quality of their academic programs at LTCC. To make a donation, call the LTCC Foundation at (530) 541-4660 ext. 245.