Trio of Art Exhibit Openings at LTCC
October 3, 2018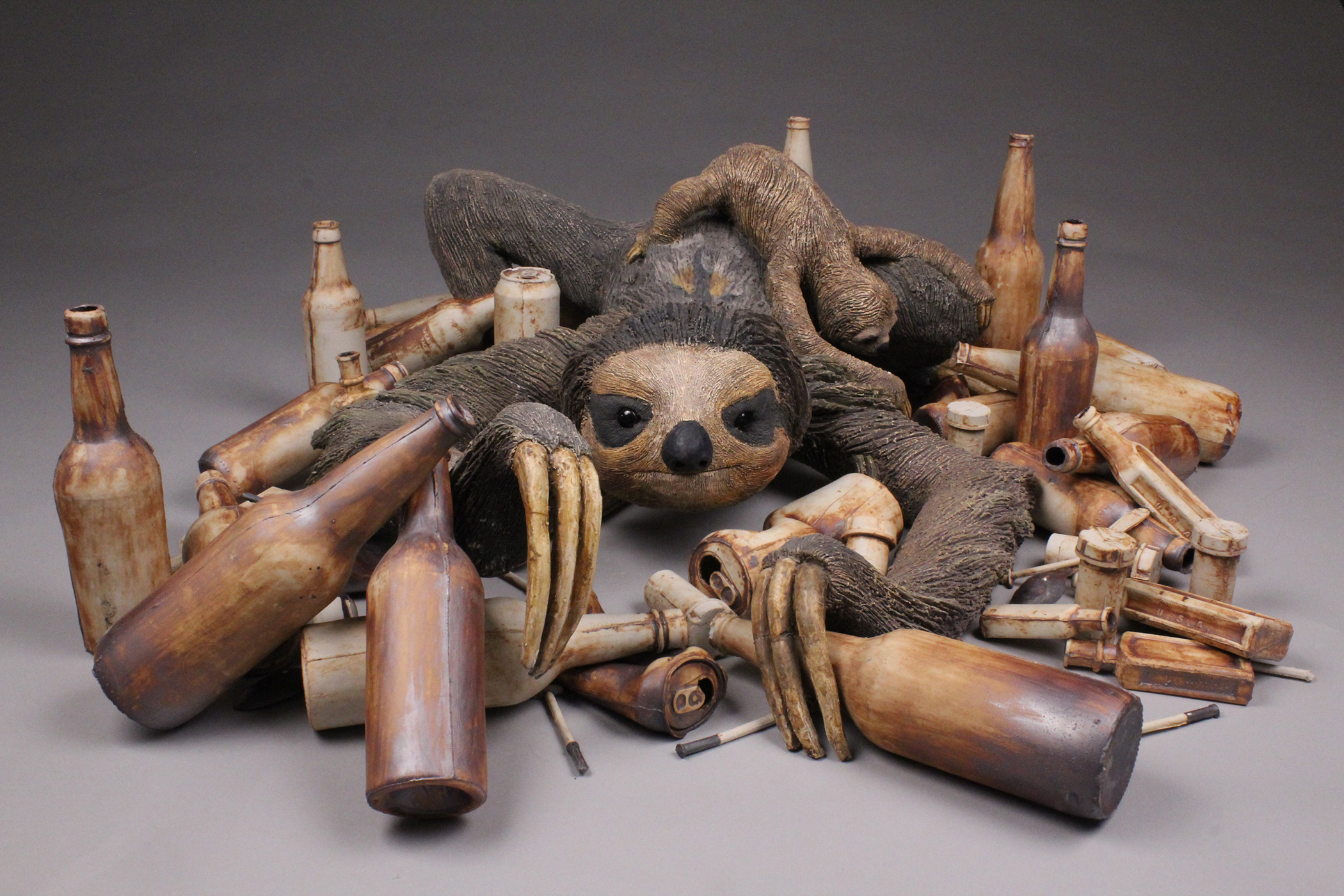 A trio of new art exhibits is coming to LTCC in October, with a free Artists Reception being held for all three shows on Thursday, October 11 from 5pm to 7pm. In the Haldan Art Gallery located in the library building will be Reno ceramicist Joe Winter's Pyrotechniques. In the Foyer Gallery located in the Fine Arts building will be LTCC student and sculptor Guy Gilmore's show, The American Dream. In the Main Building will be a Student Art Show highlighting winners from this past spring's annual student art show, with the addition of a few new pieces created by some of the winners. All three show openings are free to attend, and refreshments will be served.
Winter's Pyrotechniques show in the Haldan features a number of ceramic pots created using several different techniques, including Raku (low-temperature gas-fired stoneware), wood-fired stoneware, and wood-fired salt glazed stoneware. Each technique involves fire directly interacting with clay and glaze. "Fire, of course, can be incredibly destructive, but I am most interested in fire as a beautiful tool for creating pots with beauty, depth, and unique character," said Winter. Inspired by native art from Indonesia, Winter has studied the country's masks, shields and other items. "I do not want to copy them, but I am inspired to use their very deliberate method in some recent pieces," he said.

Winter began working with ceramics in 1979 while still in high school, and he is mostly self-taught. He has a bachelor's degree in Fine Art from Northern Arizona University, and also holds a master's in find arts degree from East Carolina University. For more about his artwork and techniques, visit Joe Winter's website. Winter will host an artist talk about his work and various techniques at 5:30pm in the Haldan Art Gallery on Oct. 11 - all are welcome to attend.
Gilmore is a current LTCC student who has been sculpting for the past six years. He mostly sculpts various animals using bronze and clay to symbolize messages he's trying to convey. As a recovering addict, Gilmore gets his inspiration by offering insight and understanding into drug addiction and the effects it has on individual lives and on society. "There is such a negative stigma associated with people who suffer from this deadly disease," said Gilmore. "I am hoping to change the common misconceptions people have about addicts." To further advance in his own recovery, Gilmore has recently started to focus his work on other topics, such as government corruption, police brutality, animal cruelty, and other issues he is passionate about. "Sculpture is my way of standing up and speaking out for change and awareness," said Gilmore.
The Student Winners Exhibition Show in the Main building will include many prize-winning artworks created by LTCC students for the annual Spring Student Art Show. Some of the winners have created up to two new pieces to round out this show and introduce some new elements.
These exhibits are all free to attend, and will remain open until December 1, 2018. The Haldan Art Gallery hours are Tuesdays, Wednesdays and Thursdays from 11am-5:30pm, and Fridays from 11am-2:30pm, closed Saturdays, Sundays and Mondays. The Foyer Gallery and Student Gallery can be accessed Monday through Friday 8am-8pm, and Saturdays 8am-4pm.