Wilderness Education
Associate in Arts Degree, Wilderness Education
Certificate, Wilderness Education
Short-Term Departmental Certificate, Wilderness Medicine
Short-Term Departmental Certificate, Search and Rescue
---
"One day's exposure to mountains is better than cartloads of books."
-John Muir
---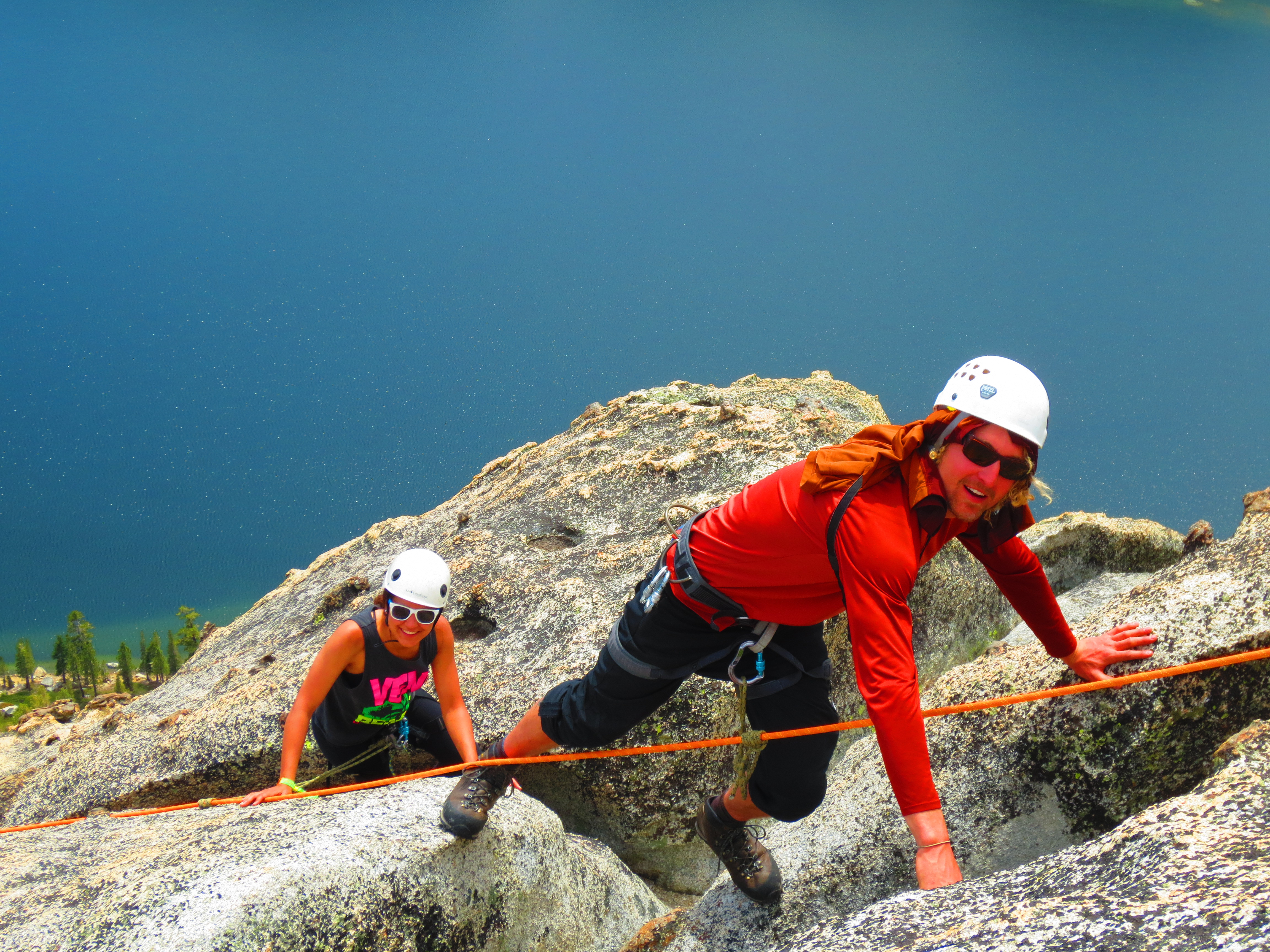 The Wildness Education program at Lake Tahoe Community College offers academic field courses across the Sierra Nevada. Our courses challenge students to learn not only from books but also from the natural landscape. Because learning and living are integrated in the field, our courses provide opportunity for both intellectual and personal growth. We seek students with a curiosity about the natural world, a willingness to work hard, and the ability to travel and study cooperatively in an outdoor setting.
The Wilderness Education degree or certificate is designed to prepare students to become theoretically and technically competent wilderness specialists who can apply their skills as outdoor leaders to diverse groups and environments in a world with a growing population and finite wilderness resources. The curriculum provides a balanced foundation of all aspects of wilderness education/outdoor recreation. Students will gain basic competencies in outdoor-based activities, wilderness first aid skills, experiential educational theory, group dynamics, leadership theory and skills, and environmental awareness. There is emphasis on the integration of academic work and technical field skills. The completion of the major is appropriate for students who are outdoor-oriented and who seek individual enrichment and growth.
View Pathway to Completion - Short-Term Certificate (Wilderness Medicine)
View Pathway to Completion - Short-Term Certificate (Search and Rescue)
Program Learning Outcomes
---
Identify the many influences that have shaped wilderness education.
Identify the management protocols for land use on the local, state, and national level.
Employ a variety of experiential leadership styles to specific settings.
Assess good judgment and safety in wilderness settings.
Apply a working vocabulary and a skills-based knowledge in field-specific topics.
Acquire technical and leadership skills that will assist the student in obtaining employment in a wilderness-related career.
Financing
---
Cost of On Campus Living
N/A
Costs Tuition and Fees
$1,007
Books and Supplies
$1,791
Financing Options
• Federal Student Loans = N/A
• Private Loans = N/A
• Institutional Loans = N/A
Credential Code: 1, TOP Code: 083600, CIP Code: 31.0101, Standard Occupational Classification(SOC): 25-1193.00
.
Equipment List
---
AIARE Avalanche Equipment List
Multi-day Field Course Clothing and Equipment List
Whitewater Rafting - Guide School Equipment List
Top 10 Reasons to Join Wilderness Education Program
---
1. You'll have FUN! (We promise)
2. You'll earn college credit and certificates of completion... impress friends, family and most importantly employers.
3. Dedicated faculty committed to excellence in teaching
4. Small classes (12:1)
5. Field based learning: from sunset sea kayaking to ski mountaineering to whitewater river descents, classes at LTCC often meet beyond the classroom.
6. It's affordable! Theses classes represent the most affordable, high quality training you will ever find!
7. Community: You just never know whom you may meet in one of our courses. Imagine the stories...
8. Experiential education: Our educational philosophy emphasizes self-direction and learning by doing. We believe that education is a journey, not a destination.
9. Environmental ethic: Our curriculum fosters critical thinking and encourages an ethic of personal responsibility and environmental stewardship.
10. Ideal location: The Sierra Nevada is our classroom (Need we say more?)
"Promoting the Recreational Community to Recreate Communally"