Accreditation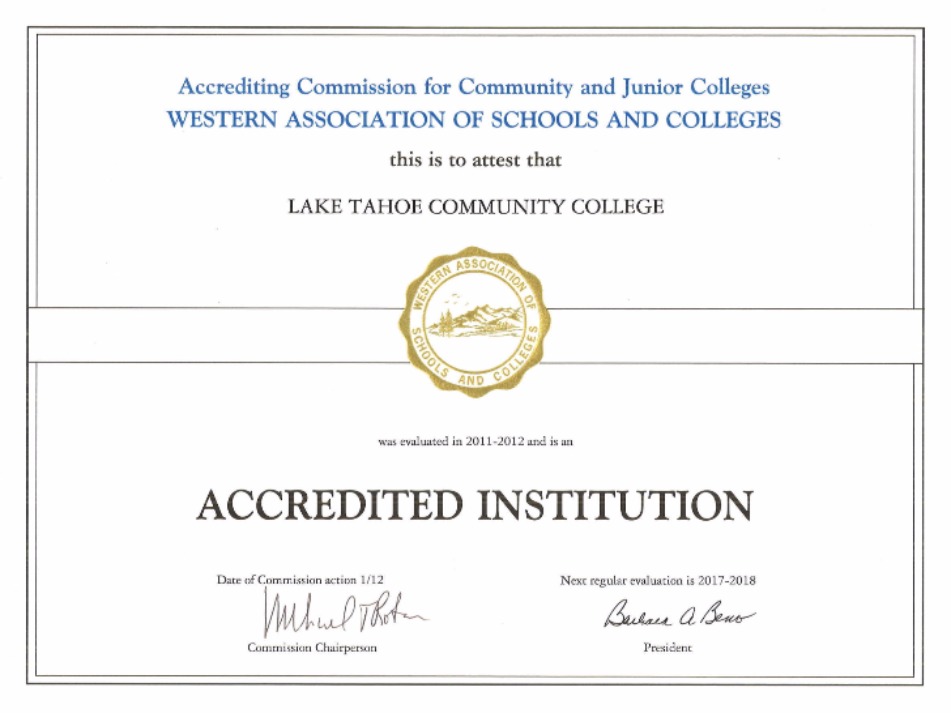 Lake Tahoe Community College (LTCC) is accredited by the Accrediting Commission for Community and Junior Colleges of the Western Association of Schools and Colleges (ACCJC), a regional accrediting body recognized by the Council for Higher Education and the U.S. Department of Education.
LTCC was originally granted accreditation in January 1979. Accreditation status has been maintained through a regular process of self-evaluation and review by the ACCJC. The University of California, the California State Universities, and other accredited colleges and universities give full credit for equivalent and transferable courses satisfactorily completed at Lake Tahoe Community College.
Accreditation Process
---
ACCJC has established a comprehensive set of standards against which colleges are periodically evaluated to ensure and monitor the quality of education provided by the institution. These standards are divided into four categories: institutional mission and effectiveness; student learning programs and services; resources (human, physical, technology, and financial); and leadership and governance.
Every six years, the college is required to undertake a comprehensive self study as a means of assessing how well and to what degree we meet these accreditation standards. This self study typically takes a year to complete, involves the entire campus, and culminates in a written and published self study report. Following completion of the self study, ACCJC sends a team of evaluators (that is, educators from other colleges in the region) to the college for a multi-day visit to evaluate the quality of the college by validating the self study and assessing the degree to which the college meets the accreditation standards. This step embodies the peer review concept of evaluation, assessment, and quality assurance. The team develops a report based upon their visit and their assessment of the self study. This report along with the team's confidential recommendation is subsequently submitted to ACCJC for consideration and action.
In addition to this six-year re-affirmation of accreditation process, the college must submit to ACCJC a midterm evaluation report in the third year of the cycle, as well as annual reports.